1961 Lambretta TV175 S2
Phil Cook was in the Merchant Navy in the late 1950s and whilst on leave spent time in his local pub.  Going home, he passed BH Frank Scooters in Pasture Road, Goole, admiring the new scooters on show; he couldn't afford to purchase one, but asked the owner if he'd any older models for sale…
…So in 1960 Phil bought his first scooter, a Lambretta LD125. He had to push it one-and-a-half miles home from the showroom as it was a non-runner and a minor point – he didn't have a driving licence. Having got it home, he set about trying to restore it and with only two weeks shore leave left, he managed to get the engine running, using his skills as an engineer in the Merchant Navy.
Returning from a long sea voyage, he arrived home to an almost fully restored scooter (his dad had continued the restoration without his knowledge).
The LD was now grey and blue in colour; it became Phil's transport for 18 months, but due to being away at sea, it didn't get much use. However, being at sea meant Phil was able to save money from his £38 a month wage, so whilst on leave in 1961, he rode back to BH Frank Scooters and traded-in the LD for a brand-new ice blue Lambretta Series 2 TV175 because he liked its' curves. He rode out of showroom on a brand-new £212 scooter with accessories including, screen, tartan seat cover with matching helmet bag and panniers – it was a small price to pay for his independence and freedom. The TV175 was his only mode of transport rain, hail, snow and occasional British sunshine.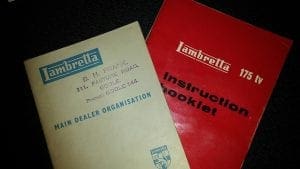 Phil's wife, Judith who sadly passed away in 2006, nicknamed the scooter Matilda. Judith worked in Coventry as a teacher and Phil used to ride 200miles on the scooter to pick her up and return two-up with luggage when he was back on land. Phil and Judith married in 1962 and the following year Judith became pregnant. Up to two weeks before the birth of their first child, she still rode on the back of the scooter.  Once a family of three, the scooter became the second choice mode of transport, as a car was purchased. So Matilda was put to bed in the shed in 1964 with 9762 miles to her name.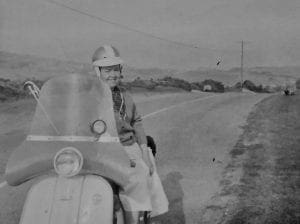 Over the last 30 years Phil has wanted to restore the scooter, but due to life changes and other priorities he never got round to it. Then in 2014, Phil moved home and in the shed was Matilda – what should happen to her? He was offered £500, but there were too many memories in the scooter for that price. Then along came son-in-law, Moxy, who took the bike to the other side of the country to start bringing her back to life.
The big decision: get it running, clear coat and ride, or fully restore? Phil wanted it to see it back to its former glory; he wanted it to look the same scooter as it was in 1961 when he rode it off the garage forecourt – decision made.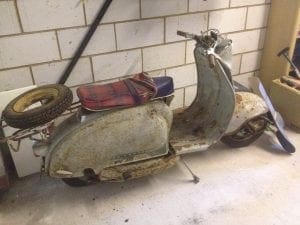 With limited scooter knowledge (Moxy had restored classic cars before, but never a two-wheel vehicle), Sticky's manual and Google, he started restoring the TV175. Luckily within half-a-mile radius there was four classic scooter fanatics with a wealth of knowledge and a selection of tools!!
Taking all the panels and parts off the scooter took more time, brute force, appalling language and releasing oil than expected. Luckily one neighbour was able to help on a regular basis and under the direction of Rob Marr, the scooter was taken apart. Many freezer bags disappeared from the kitchen, as every nut and bolt was labelled placed in boxes. Most of the scooter came apart easily once drenched in releasing oil, but the rear brake had seized and the piston felt like it was welded to the top end. Original unusable parts included a very rusty exhaust, cracked wires in the loom, a rusty horn, John Bull tyres, and the front inner mudguard, were placed in boxes. The 6v system was to be changed – maybe one day it would go back to the original set-up.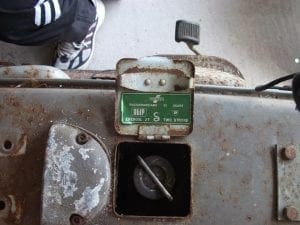 Once stripped of all the old paint, a few of the panels were much pitted and needed a lot of work prior to spraying – Phil from Dreamland Motorcycle Paint shop in Port Sunlight did an excellent job of restoring the scooter to its original colour.
After a few months the scooter was collected from the spray shop and the task of rebuilding started.
Wiring and cables were next put on using the 100 plus photos of the scooter as Moxy dismantled and rebuilt it.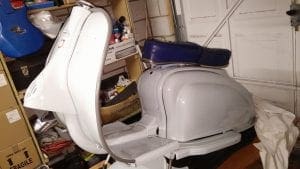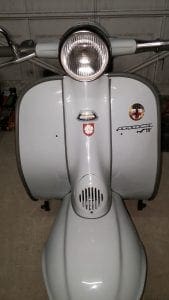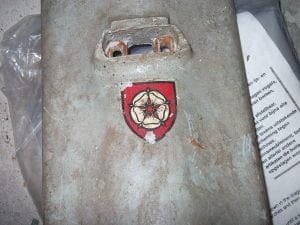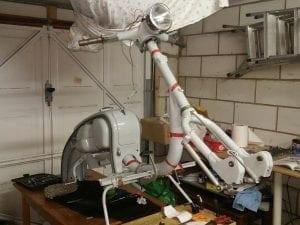 The engine was given to Simon Smith of SRS Auto in Heswall (a human encyclopaedia of scooter information) for him to cast his expert eye over and solve any issues to make it run perfect. The engine needed new clutch plates and a gear shim.  The piston was seized and took a little persuasion to get out.  To make the scooter more reliable, it was changed to a 12v electrical system and a clubman exhaust was put on.  Why? Reliability…
January 23, 2015: Moxy got a call from Simon who left a voicemail: "Only two kicks – started."  Next day he was at the garage listening to a smooth running engine which had been dormant for 50 years. Fantastic. The engine was installed into the frame by Moxy and Rob in a few hours. Moxy was left to rewire the scooter, which caused a few issues due to changing to the 12v system, but eventually all issues were solved using internet Lambretta Forums and Sticky's manual. Cables were connected to speedo and brakes. Finally, the remaining panels were replaced and the scooter was ready to MOT.