This is Palmarium
Aug 12-14, 2016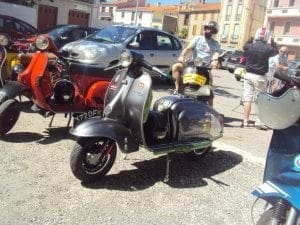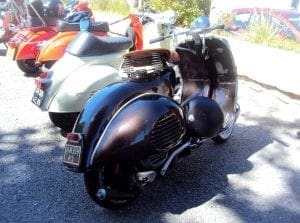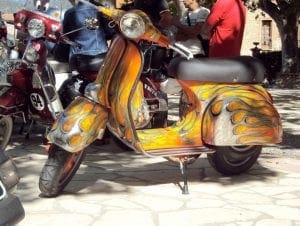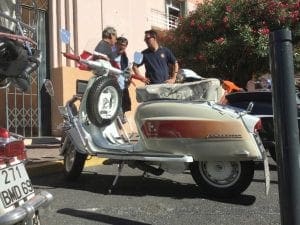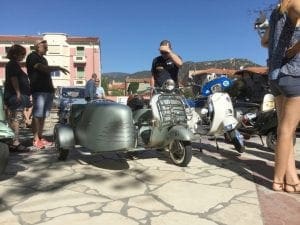 The Perpignan Rally relocates annually, usually around mid-August. Despite best intentions I've never managed get to it, (my house is in a village in the foothills of Mount Canigou, in a back street, where 14 year olds run up and down, on mopeds with no exhausts). This year, I did not know where the rally was being held, never mind organize a scooter to actually go to it!  So it was a pleasantly disconcerting surprise to find the venue was literally round the corner…
On Friday morning scooters started to drift into Vinca. At 5pm, the sun shining, I went to Vinca 'Salle de Fetes' bought a t-shirt, put it on; I was at a scooter rally! Within minutes, I was introduced to Stephan Lahoz the 'Boss' of Palmarium, who had a stunning Rally 200 – one of his 13 scooters.  I wished him and Valerie Garcia 'Bon courage' for their forthcoming UK tour, including the north of Scotland; they assured me they had good waterproofs.
About 10 o'clock the volume went up to sounds of Latin Soul, Mod Jazz, Blow Up a go-go, followed by several other genres of scooterist sounds. Having climbed Mount Canigou (2,784m), the day before, I soaked up the atmosphere outside, meeting an interesting and diverse bunch, including Thierry from Nice, who I already knew. The conversation, in French and English, predictably covered Brexit, the price of rare Northern Soul records and the aesthetics of classic scooters. They were playing The Ramones when I went to bed, about 3am.
At the informal 'Custom Show' at 10.30-ish next morning, Stephan Lahoz was having a serious look at the entrant's scooters. The winners were announced at the evening do, over a muffled tannoy; I don't know who won, but Peter McNally's TS1 Series 2 and Theo Lampos' Smallframe Vespa 50 stood out from the crowd. Theo, who may have been the youngest scooter rider there, did not re-fit the Vespa's original peddles, required at the time of manufacture!
Around 12.30pm, 200 scooters left for the rideout, in a huge cloud of two-stroke smoke, to the sound of revving engines and 200 beeping horns/dying ducks. They wound up the Lentilla Valley, into the foothills of Mount Canigou, then to Vallmanya and back down via another breath-taking mountain road to Bouletenerre and back to Vinca, where participants were fed in the shade, at Vinca Promenade, follower later with wine tasting, at the local 'cave'.
Saturday night kicked-off musically in a similar vein to the night before; a stream of DJ's, Brian Auger's Hammond, followed on into Northern Soul. I managed to get out on the floor, not too much 'Madness'. The atmosphere was even better.
Morning came and the clear-up. Palmarium continued the party in Perpignan on Sunday night, but scooterists could still be found, chilling-out in the pools or waterfalls, near Vinca, well into the evening – a perfect way to end a Mediterranean scooter run. Thank-you everyone at Palmarium Scooter Club; I loved every minute of it.
Davy B