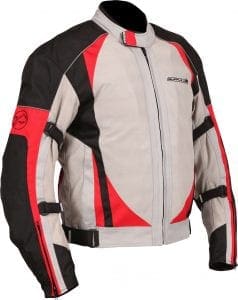 Coolflow ST jacket
RRP: £99.99
Reviewer: Mau
Part of the Buffalo range, the Coolflow ST has been designed as a three-layered summer weight textile jacket manufactured from a 600 Denier polyester; it has integrated mesh panels which provide air ventilation once the inner waterproof and thermal linings have been removed. Because the mesh panels are on the chest, vital areas like arms and the back still benefit from 600D polyester, which the manufacturer claims offers sufficient abrasion resistance. The jacket also has removable CE armour on the shoulders and elbows; a pocket is also provided for a back armour insert (available separately).
Standard features include a brushed collar lining, two way cuff zippers, four internal pockets and reflective detailing to aid visibility at night. There's also an adjustable twin Velcro retained waist belt. One other feature I particularly liked was the adjustable popper-retained upper/lower arm straps which not only ensure that you get a personal fit, but also helps prevent the jacket from billowing in the wind – and these certainly helped to improve rider comfort when I was out on the open road.
Having used the jacket on many of my low/mid-range journeys, I can vouch for its' versatility. With the linings removed, the vented airflow provides a nice cooling effect in the hot summer sun; but this is the UK and the evenings can turn cool very quickly, so when I knew I was going to be out riding till late, I simply carried the inner lining under my scooter seat, ready to quickly fit in place for the colder ride home, thus providing me with a little more insulation when needed.
The jacket is available in a red/stone colourway, in sizes S to 5XL, so there's a size to suit most statures. Matching trousers (RRP: £79.99) are also available which can be attached to the jacket via its' 8-inch connecting zipper.
Info: www.thekeycollection.co.uk