This beautiful machine is Kevin Seaward's homage to his original AF Rayspeed 'S' Type – the first ever produced back in 1981 from AF's present East Heslerton location, after Ray Kemp upped sticks and headed north.
I really do love my job, enjoy getting out and about, travelling up and down the country and meeting interesting people with the same interests as myself.
I genuinely enjoy talking to people that are passionate about what they do, what they've built or what they own from within the classic scooter scene. Also, I like the fact that from these conversations, other connections occur, with possible leads to further related articles.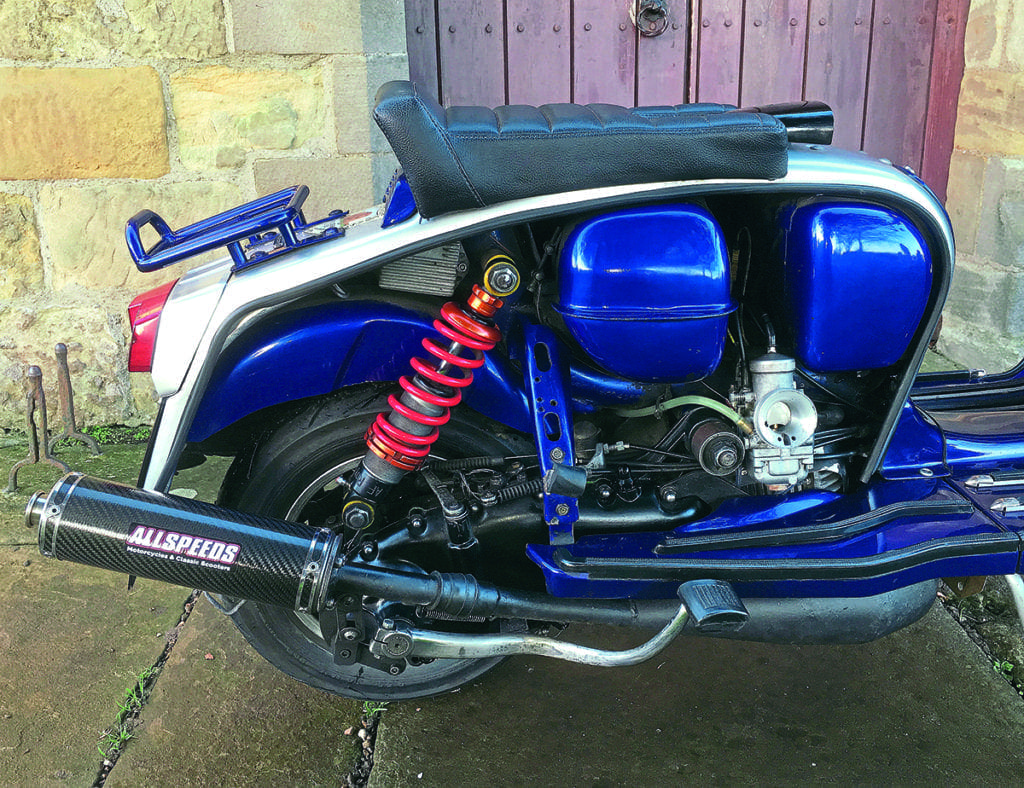 This is one such article and the culmination of the story regarding the evolution of the Indian Lambretta 'S' Type. 
This has seen the marque develop beyond belief, from the very first one made from a machine out of the first batch to come off the boat from India way back in 1977, and a machine that's still owned today by the original owner, Paul Hastings.
This story takes us right up to the present state-of-the-art machines still being produced under the AF Rayspeed 'S' Type banner.
---
---
Old testament
Originally from Scarborough, Kev Seaward got into scooters back in 1975 when he owned a Vespa Rally 200 Electronic, and after about a year, a new green Vespa Rally 200. He then got one of the first Vespa P200Es that arrived in the country.
After that, he dabbled with a Lambretta, chopping it down and painting it the night before the Scarborough rally, riding it there with the paint still wet.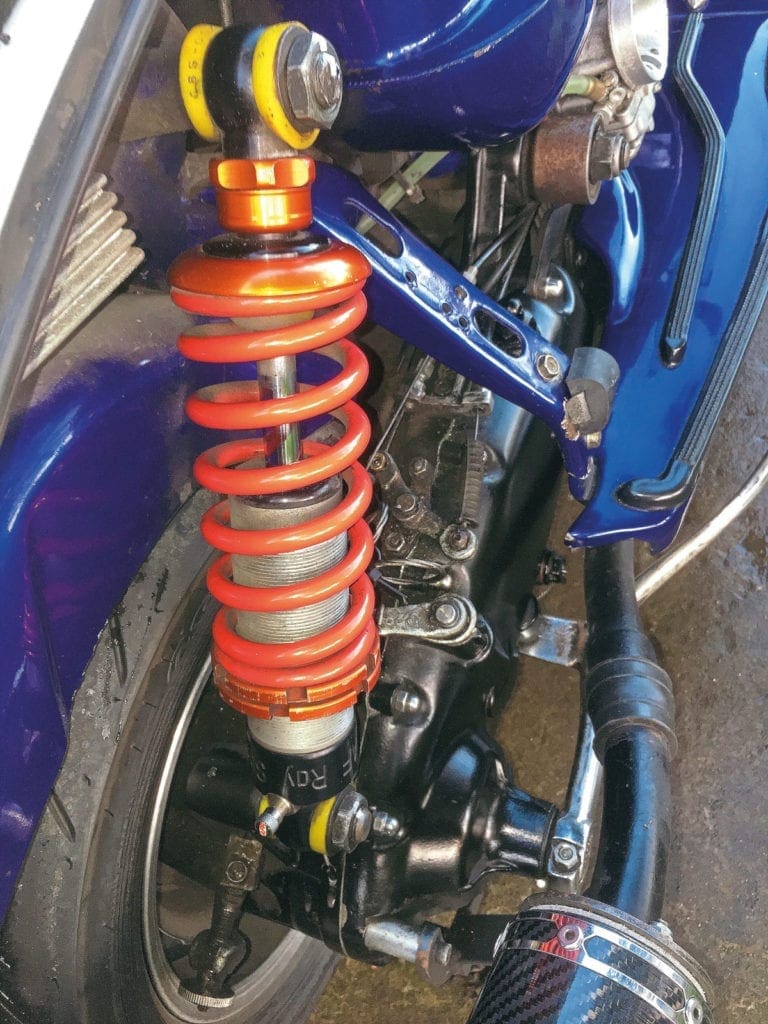 Kev was one of the founding members of the Scarborough Castle Coasters SC. He was passionately involved with the scene until 1982 when he became totally disillusioned with what was happening. The inter-club feuds, thefts and trouble around that time killed his enjoyment for the scene. So, after selling his AF Rayspeed Super 'S' Type 250 – the first East Heslerton 'S' Type produced – he walked away.
What his initial time in scootering had given him though, was a passion for the freedom and adventure that only riding a two-wheeled vehicle can bring. During his time out in the wilderness, on his self-imposed exile from the scooter scene, Kev owned several motorcycles. Along with his wife, Julie, he has done some serious miles. One such road trip saw the pair covering 3,600 miles through five European countries over a month.
The sacrifice
In 2010 Kevin turned 51, and after many years of driving up and down the vast area he covered for work, he began to suffer with prolapsed discs in his back. He was told that he would require an operation to correct this problem and would be off work recovering for up to three years, and may be unable to drive straight away on his return to his job.
At the very same time the company he worked for announced a major restructure. (RESTRUCTURE: A brilliant all-encompassing description, usually meaning working folk are getting finished and the remaining staff lucky enough to still have a job having to take up the extra workload, for no enhanced remuneration and be in constant fear of the next big cull – a very useful tactic for controlling a workforce and one I imagine much used by the big corporate machines to great effect).
Knowing full well that Kev was going to be off work after the operation for three years, the company decided that he was to be one of the members of staff to – stay!? One of Kev's workmates had not being so successful in retaining his position, so Kev approached his company and offered to sacrifice his own job in order to keep his mate employed.
He wasn't martyring himself; it just made sense, as he was going to be off for a prolonged period of incapacity and his possible return almost tied in with his own retirement plan. So, after finishing work slightly earlier than he'd initially planned, the prescribed time off for recuperation and the operation to correct his back issues successfully sorting the problem out, he was now a man of leisure.
The epiphany
On Easter Good Friday 2013, Kev and Julie were having a night out at their local pub in Cayton with another two couples. As they sat enjoying their evening, they heard the unmistakable sound of two-stroke scooters, as a scooter club rode into the car park.
The three blokes (Kev and mates, Dave and Davey) got up and went outside to have a look. That was it; the clouds parted and a bright beam of sunlight radiated down upon Kev and his companions. They stood there with mouths gaping open as their senses were bombarded with the sights, sounds and smells of their youth, re-igniting the fire of memories from happy days on two-stroke scooters.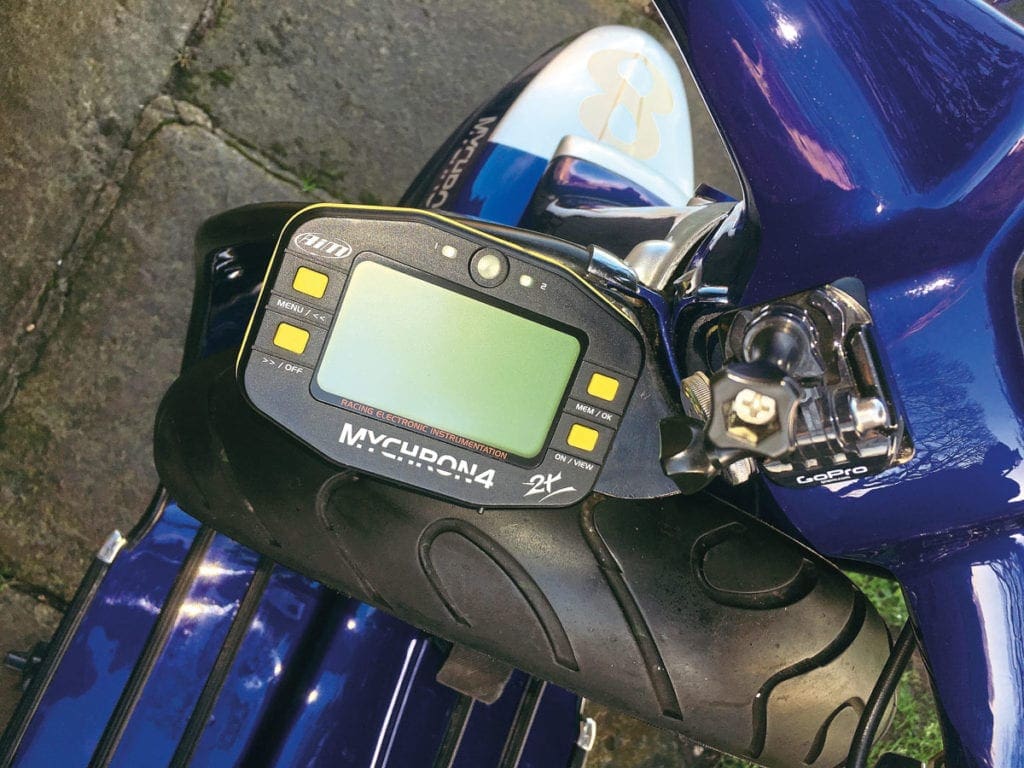 They were mesmerised, unable to move or take their eyes off the scooters until a biblical fanfare of trumpets (actually, a set of Poli air horns from one of the scooters) brought them back to their senses. With massive smiles they all looked at each other and said, almost in unison: "I'm getting a scooter."
This chance encounter was all that Kev needed to trigger those feelings from deep within. You know, those feelings that are sometimes forgotten or sometimes hidden for a while, but are never actually lost.
The creation
A short trip was planned and Kev and wife Julie headed down the A64 to have a chat with Ray Kemp. When they got there Ray wasn't in, so they were looked after attentively by Ray's son, Ben. After a short while Kev spotted a beautiful blue GP200 in the display of machines that were for sale, with a price ticket on it at that time of £3,250 on the road.
Kev asked if it was available and it was, so with a charming smile at Julie he said: "Is that OK?" To which she replied: "Yes, of course, dear." (Lady readers please take note)! Kev then started describing to Ben what he used to have and that he wanted another 250cc (being away from the scene for so long and in that time riding motorcycles, Kev wanted the highest capacity possible).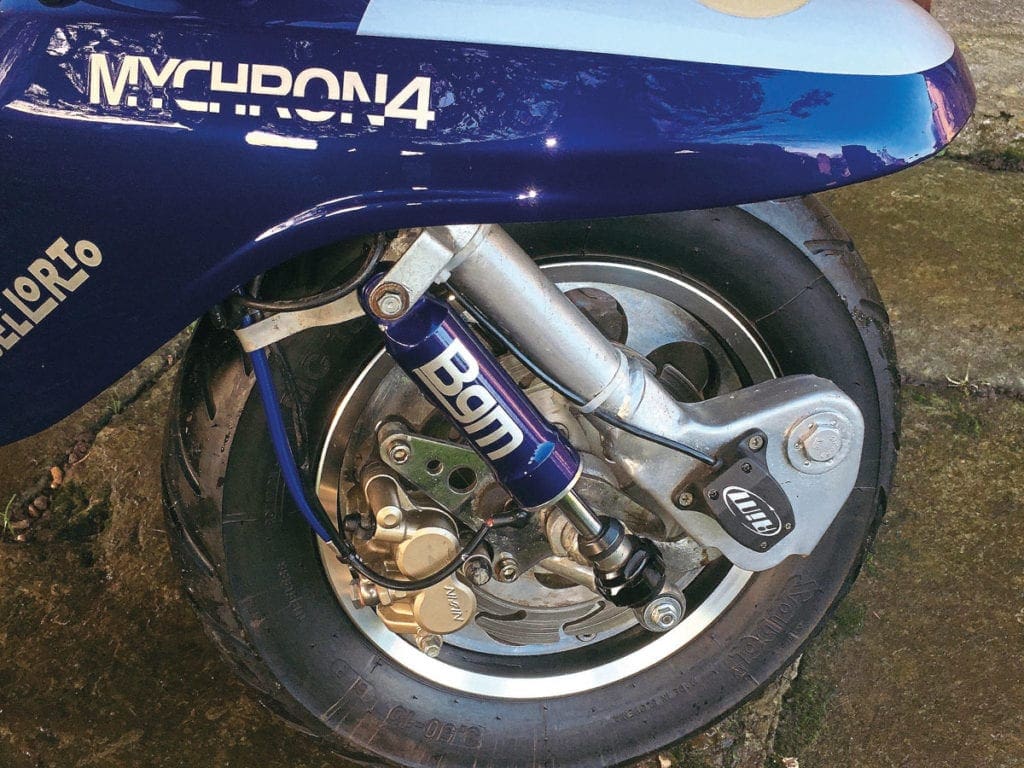 Ben asked what Kev's riding requirements and style were and as an alternative suggested that the best way forward for Kev was to build a RB225 motor, explaining that there had been a phenomenal leap forward with Lambretta engines in regards to the quality, performance and reliability.
Kev again smiled at Julie and was again given the nod to go ahead, so an RB225 motor was ordered along with an NK touring exhaust, Avanti large cylinder head, Surflex competition clutch and Rayspeed close ratio 5-speed gearbox. Then Ben asked what Kev required to keep the rubber on the tarmac and to stop this Indian road rocket. Again, this was all new to Kev regarding scooters, as the last time he was out on a super-tuned Lambretta, all that was available to stop the thing was standing up on the rear brake pedal whilst pulling a handful of reverse pull cable through the front brake lever, all whilst saying a little prayer and gritting his teeth.
A front hydraulic disc and BGM front dampers were the way to go at the front, with a Rayspeed Race nitrogen-filled rear shocker taking care of the back end. Tubeless wheels front and rear were also a pre-requisite for the modern, high-powered 'S' Type. Along with the base machine and all the engineering upgrades, Kev has also fitted some trick electronic technology with a SIP speedo, incorporating a speed sensor and cylinder head temperature sensor. He also has a Mychron electronic device with exhaust sensor, head sensor and rev counter. This clever piece of kit also has the ability to record technical information, which can be downloaded back at the AF Rayspeed HQ and spill the beans on Kev's riding style on the road.
Again, all these Big Boys Toys were gladly unopposed and agreed with a smile by the lovely Julie. In fact, Kev said that it got to the stage where he was wishing that she would actually say: "Now that's enough! You've spent more than your fair share of pocket money for this decade!"
That wasn't the case, however, and after his personal touches to the paint scheme were added – including his own lucky number 8 – Kev eventually walked away from the shop that day £7,250 lighter.
The resurrection
That was April 2013, and Kev picked up his modern tribute to his old 'S' Type in July that year. He got to know his new machine as he rode the beautiful scooter on the equally stunning roads around his locality. The first Rally he attended with the machine was Scarborough.
Well, it had to be really, being a locally produced product in design and build. Kev's tribute machine was also exhibited at the 'S' Type 50th celebrations at AF Rayspeed in 2014, where it received plenty of interest. Kev says that to date, the furthest he's ridden the machine is to Great Yarmouth, but much prefers to enjoy the scooter locally. Kev and his scooter have also been featured along with several others from scooter clubs from Scarborough and the surrounding area in the pop video accompanying the Paul Heaton and Jacqui Abbott song from 2015, 'I Don't See Them' (check it out on YouTube).
Regarding the actual running of his 'S' Type, Kev says that it runs perfectly. It feels great on the road, with the set up of engine and suspension he's chosen. The scooter has been totally reliable, with just the odd little niggle here and there, but nothing major.
I mentioned to Kev that it did look the business and sounded great, but what about the performance? Kev stated that according to the electronic devices set up by Ben Kemp, the fastest recorded top speed so far was an accurate 93 mph and it was he (Kev), who had to back-off, not the scooter. As he says, there was still more to give.
It's unbelievable to think just how far the art of getting the most out of a scooter motor has evolved, clearly demonstrated with the speed, performance and reliability from this road-going Lambretta, and a machine that's already six years old.
These are very exciting times within the classic scooter scene on the tuning side, with massive investments made from the top industry players regarding the motors and what can be produced for Lambretta and Vespa two-stroke machines. It's truly remarkable that just when you think the summit of the mountain has been reached, some bright spark plonks a ladder on top to take it to the next level. Long may the climb to the tuning heavens continue.
Hallelujah!