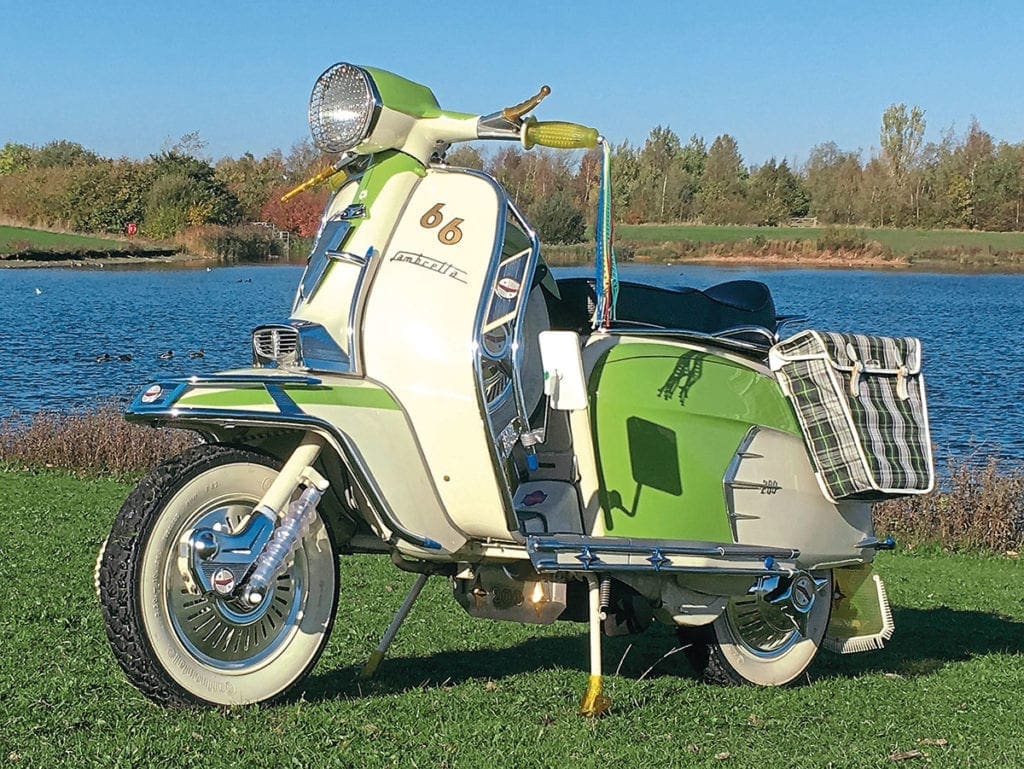 Mine & Unique: Innocenti produced the SX200 from 1966 until 1969; it was a replacement for the TV200 model which originally began production in April 1963. Italian Lambretta scooters were continuously manufactured in a 200cc engine capacity until the Milan production line closed down and production transferred to India.
The desire for extra power had been eventually fulfilled after constant requests for a model with an increased engine size by the top management at Lambretta Concessionaires. These requests were finally granted but with some caution and Innocenti began production of the TV200.
The Milanese Company had enough reservations about the extra power causing possible problems that they would only supply these capacity machines to the UK Concessionaires with the caveat that they would be responsible for the warranty.
As it happened, the TV200 proved popular and after teething problems caused by the vibrations of the extra power were sorted, Innocenti was forced to concede that they could build a machine capable of handling such a power output and that there was a commercial demand for it.
So in January 1966, the Lambretta SX range was launched with the flagship model, the SX200, carrying-on from the previous 200cc model, but in a more refined manner. There were subtle, but effective, changes to the styling and a slight increase in horsepower over its predecessor. The SX200 was to last just three years, but within this time 20,783 examples were manufactured.
The SX200 and its forebear, the TV200, are both works of exceptional automotive art and if I was lucky enough to be in the position where I could choose between them as to which one I would own, I think, the scales would slightly tip in favour of the SX. I've given this considerable consideration while preparing this article and studied many pictures of the two models, and to be honest I can't give a reason for my decision, other than the SX just looks that bit cleaner, slightly sharper and fresher to me, if that makes sense.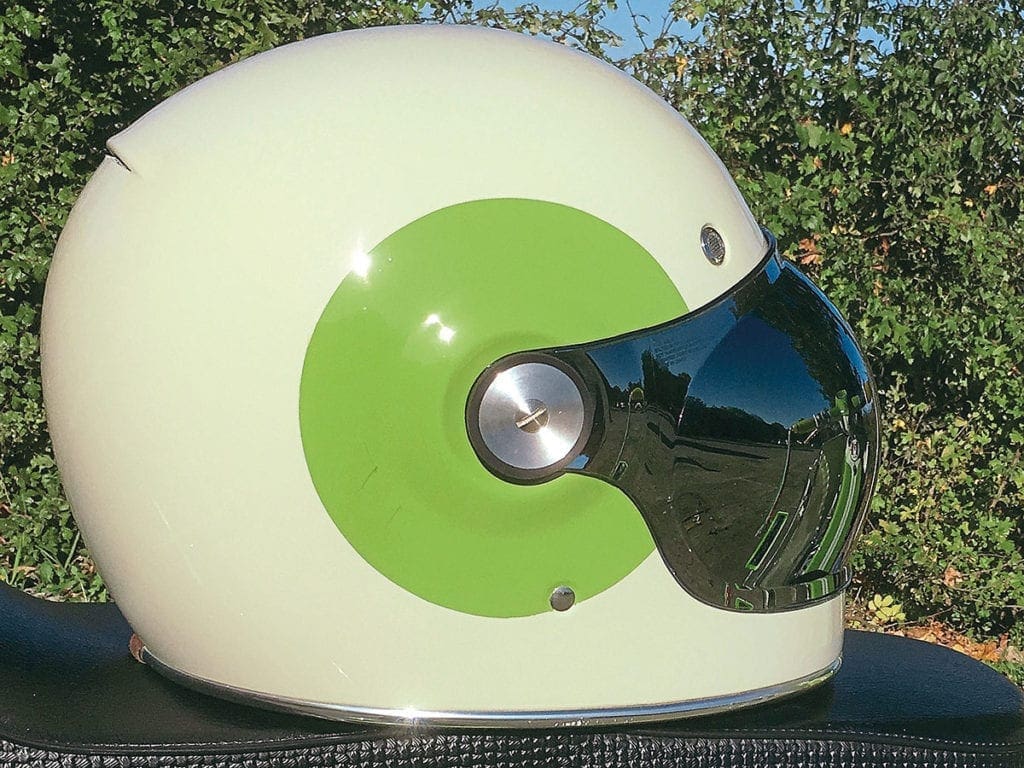 Squisito
So to take this already exquisite scooter to a totally different level takes some imagination, and to be fair, a decent amount of courage to try something different rather than play it safe with a standard renovation. To get it wrong and risk not liking the end product could be both costly and heart-breaking and a build of such quality is usually only achieved by one of the famous scooter custom houses.
Paul Carter from West Yorkshire had long wanted to be the owner of an SX200, but seemed unable to find the exact machine he wanted as a complete 'off the peg' item, so to speak. So after waiting long enough, he took the decision to source all the parts separately and get one built to his exact specification.
---
---
La Storia di Paolo
Paul picks-up the story of his outstanding 1966 Lambretta SX200: "We first have to wind the clock back about 12 years (to December 2006 to be precise). I'd been planning to build an SX200 from scratch for quite a while; I'd tried and tried, but for some reason could never seem to find the correct complete machine to purchase outright; nothing really did it for me.
In the end I had a lengthy conversation with Phil Varley at Torch Engineering about the possibilities of building one from scratch to my exact specification, but as with these very sought-after models becoming ever scarcer, he explained to me that it would not be an easy task to undertake. He did, however, tell me that he had about 99% of the bodywork and most of the other bits I needed, but not the main components (that being the frame and engine). Okay, I thought, that will be an easy fix – how mistaken I was.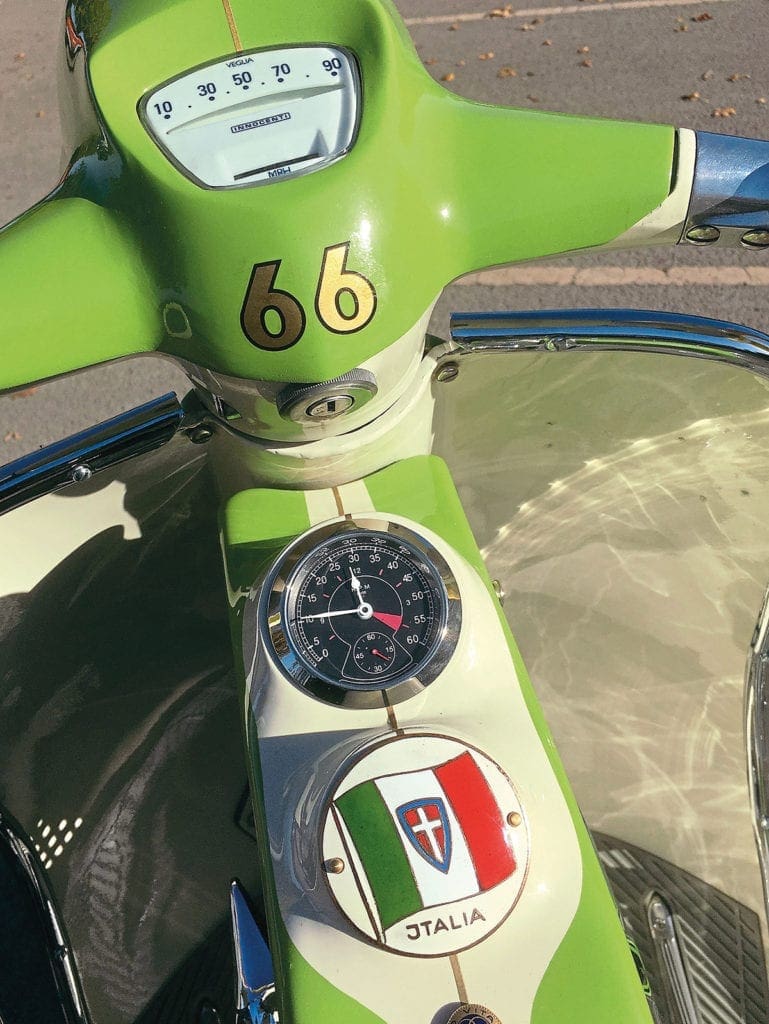 And so the search began in earnest for a frame and engine. At first I wasn't having much luck at all and began to wonder if anything would turn up, but I knew that somewhere out there someone would have them and that they'd be willing to part with them. Just by chance I was put onto Grand Prix Scooters in Leicester and low and behold, the missing components were sourced.
I had all the makings of a Lambretta SX200 (even if it was in kit form) and so began the fun part, as now that I had all the correct pieces I had to decide which way I was going to go with it. I did ponder for a while if I should remain true to the original Innocenti specification and build a totally pristine standard machine (of which there are many superb examples out there already); or should I go for something a little different, totally customised to my own personal taste and specifications, knowing then that it would be 'mine' and unique?
After a few sleepless nights, my decision was to go with the latter choice and build something really special to my own design and requirements. Firstly I needed to figure out which way to go with the paint. I eventually opted for a two-tone scheme similar to some of the dealer specials that were originally offered to entice customers to purchase one of their machines, rather than from another dealership.
Most of the dealer special paint schemes were based upon the addition of a second colour to the original standard colours, which were on offer at the time. I wanted this style, but with a slight twist, so I substituted the original white for an off white (or Old English White, to give it the correct name) and choose a second colour which was to form the contrast on the panels, mudguard, horncast, etc. Eventually I chose something very similar to the original Apple Green used on the SX150.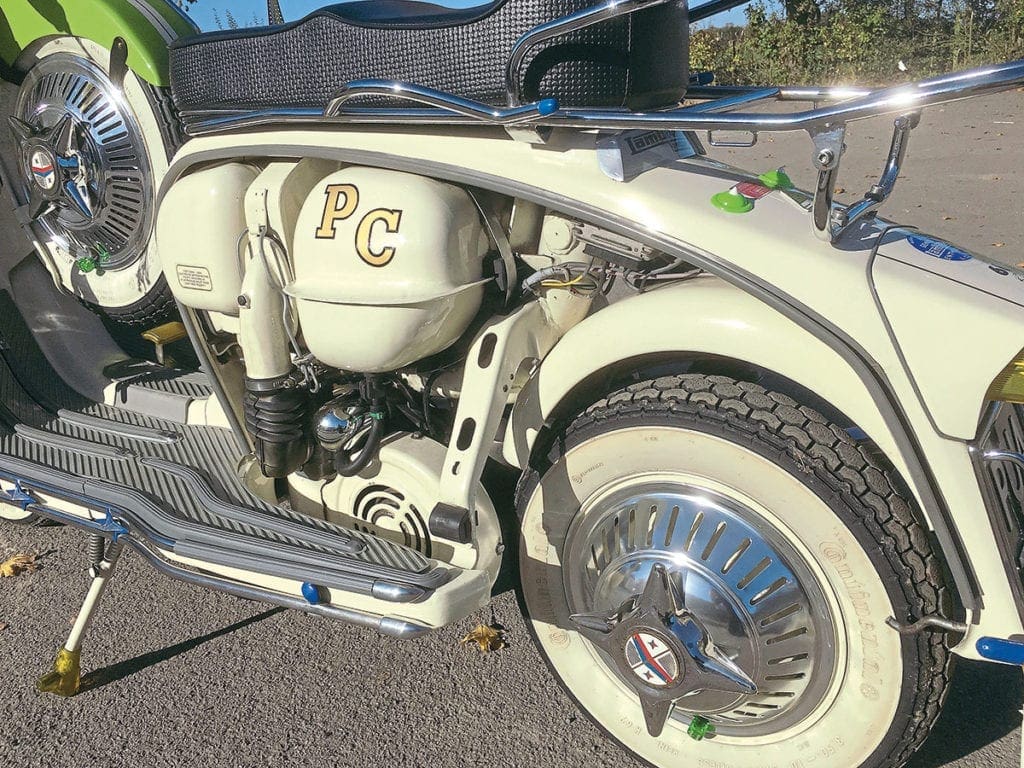 With the colour scheme decided upon off went the numerous body parts for prep and paint, this was carried out by Terry Inman at Panel Paint Shop. I have to take this opportunity to say what a fantastic guy Terry is and what amazing work he produces, I would not use anyone else and have had numerous other work/projects painted by him to date.
With everything back from the paint shop, it was now time to commence the build. I had discussed at length with Phil my intention to keep the scooter's engine as original as possible, but maybe change a few things from this original spec just for that extra reliability.
We decided to go with a Mugello 198 kit, a GP200 gearbox and crank, the standard four-plate clutch, a 22mm upjetted Dell'Orto carburettor and a 42mm Clubman exhaust. This exhaust was modified to accept one of Torch Engineering's very own 'Mega Trumpet' end pieces – Phil's own design and creation – which looks fantastic and sounds great.
MMXVIII
Fast forward to 2018 and this is my own designed SX200, influenced by the dealer specials back in the day. Build-wise, the scooter remains as it left Torch Engineering back in 2006 with no modifications made to the engine whatsoever, and to be honest it has never missed a single beat, which is an absolute credit to the work carried out by Phil. The paintwork has also stood the test of time and looks as good now as it did 12 years ago; again credit to Terry.
It's taken all of the 12 years since the inception of this scooter to track down all the original accessories and little add-on bits that you see today. Most have been sourced by me through other classic scooter enthusiasts, some collectors and dealers, and I get great pleasure from researching the parts and then the quest to find them.
Many of these accessories are extremely hard to get hold of and demand high very prices. Several of the items are bespoke one-off pieces that will not be replicated, like the horncast badge for instance, and rear light lens which was produced courtesy of Gary Constantine at Vintage Scoot in America.
This for me, like most people, is a hobby and gives me immense pleasure seeing it all come together just as I imagined the scooter to look; it all feels worthwhile when you have a vision in mind, then reach the end of the journey and are able to admire what has been created."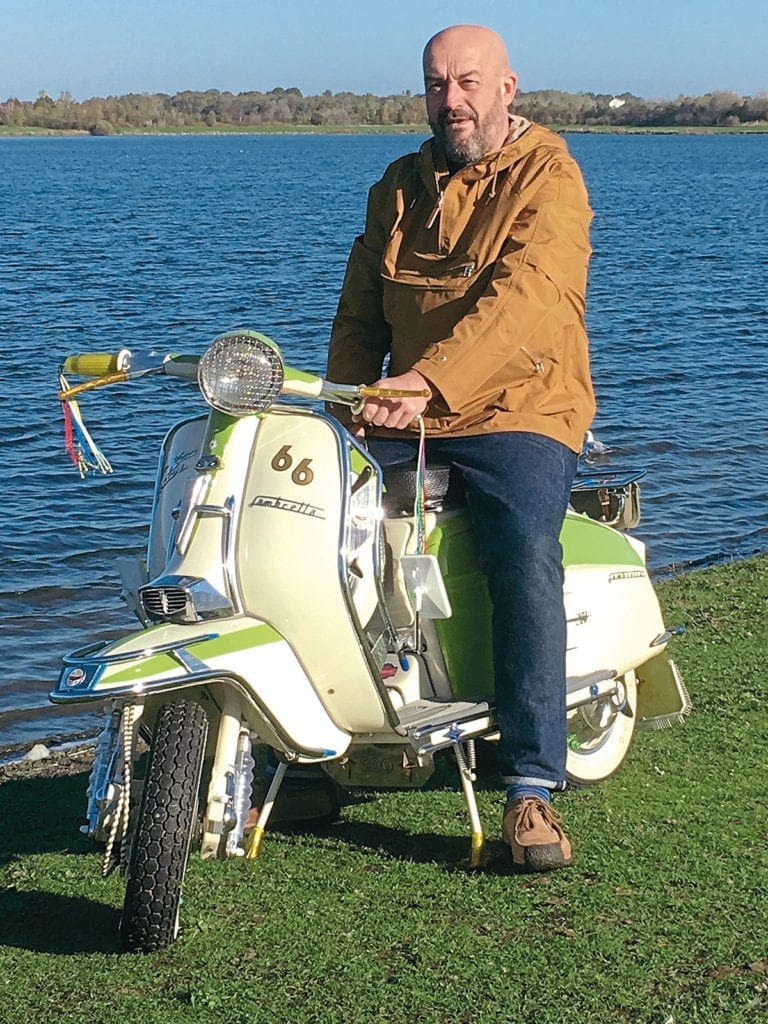 Grazie Mille
Even though it's my scooter and was my design idea, it would not have all come together without the excellent workmanship and input from many others.
I would like to thank the following people; without their skill and knowledge this project wouldn't have been possible: Phil Varley – Torch Engineering (build), Terry Inman – Panel Paint Shop (paint), Trevor Harrison – Midas Touch (powder coating/polishing), Paul & Shaun – Agbrigg Chrome (chromework/polishing), Gary Constantine – Vintage Scoot USA (bespoke one-off items), Keith Newman – K2 Custom Classics, Iain Wilkinson, Lee Parr – Parrspeed Scooters, Chris Wainwright – Scooteroller.
Epilogo
Well there you have it, the story of yet another exceptional example of a classic Lambretta scooter and what is possible with vision and dedication to a project.
Get an idea, go with it and build something just for yourself; that's what Paul Carter has done here with his 1966 SX200, and he likes the finished scooter a lot, which is all that really matters. The fact that other people also seem to like it a lot, judging by the positive comments Paul says he gets while out and about on his scooter – well that's just the cherry on top isn't it?