SALVAGING THE PAST
Stan's MotoVespa 150s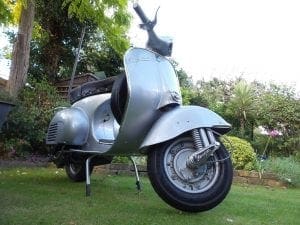 Back in the day, one of the scooters Stan Pennington owned was a Messerschmitt-Vespa GS 150 and since then he's always had a hankering to purchase another one and restore it himself – but things don't always quite work out as planned…
As a teenager in the late 1950s Stan purchased his first scooter, a Lambretta LD 150, which he and his dad hand-painted. This was to be Stan's first opportunity to get out and about riding with his pals.
During the 1960s, Stan lived with his parents and their house was within walking distance of Eddy Grimstead's shop in the Beckton Road. Initially the shop just dealt with bicycles, but then it started selling scooters and one day whilst looking in the shop window. Stan spotted a TV 175 Series 2 with just about every 'extra' imaginable on it including crashbars, front/rear carriers, two spare wheels, leopard skin covers. Not only did it all the accessories, but it was also fitted with a Hepolite piston, so Stan decided there and then that he was 'aving that'. But he was only 16yrs old at the time – too young to take out a hire purchase agreement himself – so he went home to speak to his mum and dad. But his dad didn't want to know; eventually Stan's mum persuaded his dad to change his mind, but he made a stipulation that as long at Stan could pay for it, then he could have it and his dad would sign the HP agreement. The deposit was £70 (a lot of money back then), but Stan managed to raise it by getting a job in a local pub working Friday night, Saturday dinnertime, Saturday night, and Sunday night so he could pay for the scooter. But he did it and a week later, he was riding down the street on it. "You should have seen my face" said Stan. "Even better, my mate's faces – I can still picture it now".
Back in the day, Stan and his mates used to ride their scooters all over the south east – Yarmouth, Clacton, Hastings – they went everywhere. They did some crazy things; in one incident Stan recalls riding back from Sheerness with a cap on instead of a crash helmet (they weren't compulsory on those days) in the pouring rain and wearing sunglasses (even though it was night-time) so that the water wouldn't sting his eyes. The rain hadn't let up whilst they were in Sheerness, but luckily Stan had taken his scooter cover with him and so he slept under that on the rocks. Another outing he fondly remembers was a trip to Hastings; his scooter was out of commission, but his mate agreed to take him as pillion (even though his mate's girlfriend had said he couldn't go). So his mate engineered a row with her then stormed off, leaving him and Stan to ride off into the sun. It was freezing on the way there, so they stopped off at a 24hr launderette to spend time enjoying a coffee and a war- up. Arriving in Hastings, they realised they hadn't even taken a tent with them – so they slept under a boat on the beach – happy days!
Stan has owned a variety of scooters, but the one that would serve as an inspiration for his current rebuild project was a beaten-up Messerschmitt-Vespa GS 150. He can't remember how he came about owning it and despite its condition, he was blown away by the sheer elegant lines of it. "There is nothing around to compare with its shape" said Stan.
It was a memory that was to stay with Stan over the years and when he later decided to restore a current scooter, what he really wanted to get a Messerschmitt-Vespa GS 150, but it was an impossible task to find something suitable in either German or Italian variations. So in the end, Stan settled for the Spanish-built MotoVespa 150s seen here, which he purchased in 2010 for the sum of £1200. It had some damage to the bodywork – the legshields had been crushed at some stage. This problem was resolved by Stan 're-shaping' it on his garage floor.
Stan's objective was to restore the scooter using as many parts he could salvage, rather than purchase repro parts – although some bits couldn't be avoided. One bit he's desperately wants is an original GS or 150s rectifier; if you have one, then he'd appreciate knowing about it, so he can complete that last cog in the loop.
Stan has two sons, Richard and Russell. Even though he has never owned a scooter himself, Richard has been a major driving force behind this project and Stan acknowledges that if it hadn't been for him, it would never have got done. From the moment the MotoVespa arrived home, Richard was straight in the garage, taking the headset off before Stan even had a chance to start on it himself. It wasn't long before Stan's enthusiasm started to flow and pretty soon the scooter was completely stripped. All the bits were taken to Vulcan Shotblasting in Basildon who blasted it, then finished it off in a high-build primer; the bike was then sprayed by a friend of Stan's who had worked as a sprayer in the motor trade (although he'd never sprayed a scooter before).
The engine is the original unit that the scooter came with. The crank needed some work, so it was taken to Scooterworks who rebuilt it for Stan. Part of the engine casing had broken-off at some point, which meant that it had to be ally welded so that Stan could retain the original unit. He also wanted to keep the original 6v electrics setup which the scooter would have been fitted with when it left the factory. But the existing wiring was completely shot – a problem that was solved by the purchase of a complete loom from Beedspeed. The tail light had a split along the top, so Stan bought a repro unit and junked it, just utilising the chrome cover and placing the original gubbings inside.
The use of repro parts has been kept to an absolute minimum using 'New Old Stock' parts from Buzz Solo Moto where needed. Even the original seat has been refurbished at a place in Birmingham (Stan couldn't remember their name); they even fitted a seat strap, a rechromed badge and a period helmet clip. Other original accessories have been refurbished and fitted (Stan has been offered £300 for the original carrier in these pictures). The Ken Cobbing exhaust has also been refurbished (with the tailpipe being cut-off to allow the silencer to be dipped in acid prior to chroming – the tailpipe was then welded back on afterwards). There is however, one non-standard part that Stan has decided to fit – a hidden kill switch to help deter would-be thieves.
In whole, this restoration has taken the best part of six years, partly because of a now-completed holiday cottage project, and partly because a good proportion time has been spent tracking down spares (getting bits was a nightmare, especially with so many model variations). Stan reckons he now understands how people can easily become disillusioned before they finish a project.
This project is not a pristine restoration jobbie – but it was never meant to be and Stan is OK with that; he is proud of what he has managed to achieve and of just how much originality he has managed to retain. "If you've got original parts and you can restore them – do that rather than buy pattern" says Stan. "I'm no mechanic, but it just shows what you can achieve – you just have to put your mind to it.
Overall Stan reckons the restoration was relatively easy, but says that finding the time (and quite often the motivation) to get out into the workshop and crack on with the restoration was the most challenging part of the project for him.
STAN'S DILEMMA
Stan has one scooter, but two sons. Russell has experienced some of the music and lifestyle associated with the world of scooters; Richard, on the other hand, is an experienced motorcycle rider, who after overcoming his apprehension about taking the scooter down the road using a handlebar gear change, came back with a smile across his face from cheek-to-cheek.
So this now leaves Stan with the dilemma of deciding which son will inherit his scooter? Of course, the answer to that question is for him to get back in the garage and build another one. Will he do that – only time will tell…
Words/images: Mau