PUBLISHING BYGONES
Scooter & Scooterist magazine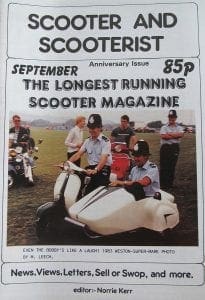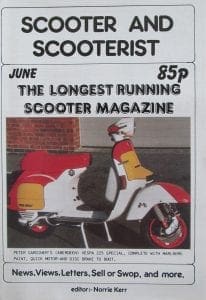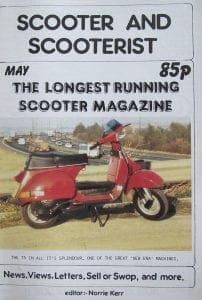 Between September 1973 and August 1987, it was down to one magazine to keep the scooterist scene up to date with everything that was going on in the world of scooters. Scooter & Scooterist magazine was the brainchild of Norrie Kerr, who, with the help of his wife, Janet, produced and printed everything from scratch. Norrie Kerr explains how it all came about:
"S&S started with a desire to gather scooter news. We had to type it, print it, collate it, post it, and get it to scooterists, who would appreciate it and use it. I had been helping on Scooter World magazine to gather info, FBSC news, and reports – you name it, I tried to supply it. Both Scooter World editors (Jon Stevens, who resigned as editor a year before it closed down, and Jeff Armitstead, who was editor for the last year of production) were most grateful in print for my input over the few years that I'd helped them. Scooter World closed its doors forever in August 1972.
There was another scooter magazine, 'Club & Circuit' (a clubman's magazine which blossomed in and around London) aimed mostly at LASCA clubs (London Area Scooter Clubs Association) and surrounding areas. Sadly, around early 1973, C&C editor Spyke, decided to shut down C&C production. It was therefore a natural progression for me when Scooter World and C&C closed their doors, to take up the cudgel and start my own scooter magazine, Scooter & Scooterist, (or S&S as it was best known). I decided to start S&S magazine in September 1973 (my 27th birthday).
The first thing to do was to get a name for the new magazine. I spoke with various people and the past editors who were helpful. Spyke thought S&S was too close a title to C&C, but my thinking was my choice of name reflected what the magazine was about: scooters and scooterists. The next point of call was the equipment to produce S&S (remember this was way before computers, and photocopiers were office machines with high running costs). I found myself searching Exchange and Mart, getting costs and ideas of what to use. We didn't just get someone to print it for us; we did the lot, even popping it into the post office. My father had been a printer stationer and the printing thing was in my blood.
Gestetner duplicators were a starting point. A hand model was bought (hand model meant the user cranked the handle once for every one single-sided sheet produced); a typewriter was next. It was easy to buy old typewriters, but we wanted something that would last a few years. We found one and we then looked to source the wax sheets to fit the Gestetner, the paper to produce the end product, and the other items we needed for the journey we were about to take. It all sounded too good to be true, producing our own magazine. Bear in mind, scooterists had no high street magazine. Power & Pedal, Scootering & Lightweights, Practical Scooterist, Scooter and Three Wheeler, Scooter News Weekly, et al, had all gone, and Scooter World, had just disappeared into oblivion. Club members at least had their club magazines, Jet Set and Vespa News, so we were in fact filling an essential void.
THE FIRST ISSUE
Our first issue was only a few pages stapled and posted to club secretaries, hopeful of tempting a few subscriptions from their members. Issue two was a lot better and the rest followed suit, gaining in information from the readers and contributors. Dave Webster'S tuning manual first appeared in S&S before being made into a separate manual by S&S. Trev Sharp did his 'Tech Talk'; Kev Walsh had his 'Walsh Beat'; there were 'Sell & Swap' pages, to sell your bits through. Then there was the editor's piece every month, 'The way I see it', and other welcome contributors provided features. Meanwhile, I spent time contacting old editors, and trustees of past scooter magazines, gaining permission to print old features on all subjects scooter. This was essential to me as copyright is preserved on many magazines – as it still is on S&S.
We had Steve our resident cartoonist, with 'Dougie', a cartoon Scot in a kilt and bearskin headgear riding his scooter. We had 'On Yer Bike' articles by Malcolm Stevens, Fred Willingham, and many more contributors, sadly too many to mention here who did their part. We had launches of new machines and products, 'Have it your way', a great letters page, and lots more.
When I say we did the whole magazine from print to post, we did. Take the collation of S&S, it was hilarious; picture the scene: all the pages set out in bundles in order round the table. We then set off round the table, Norrie, Janet, Robert, Kirsteen, all picking one sheet from each pile to collate the final product. Lots of fun, circuiting the table, times four of us; great fun, but very tiresome.
The Kerr kids were great in their efforts to help with S&S. Robert used to do his homework and then report for printing duties. The regular comment every month from him was…"oh no not again" To be honest the kids were integral to the whole magazine. I am told in later years, the pocket money was pretty good, and this gave them added incentive.
Our biggest S&S scoop was the launch of the Vespa PX in 1978. We got the jump on even Douglas Vespa, the importers, whom I would eventually work for. Eric Brockway, the MD of Douglas Vespa, was a bit peeved. We'd stolen the march on the rest of the motorcycle press, and he told me so in his own way. However, that's what S&S was about, telling scooterists about scooters. It was a real scoop!
Advertising was good to a point, with many now long-gone dealers offering their support to S&S. As I said earlier, this was all done without computers or the like. In later years we took the original A4 format down to A5, saving on postal costs, but still retaining the same layout. Then the opportunity came along to get 'colour' into the magazine. We grabbed the chance to get into the mainstream with the colour pages. At this time the magazine was firing-out 2000 copies per edition, even in the winter, on subscription. S&S was hitting all corners of the world, with USA, Australia, Brazil, Japan, and in Europe, we were sending to Holland, Germany, France, Poland and Italy, you name it.
LOVIN' IT
S&S never was planned to be a cash cow; it would have folded in a year if that had been the case. It wasn't the plan and we always made sure we covered the little losses to keep the magazine on track. However, in early 1987, we made the decision to close the doors in August, on what had been 14 years of production. Printing every month (except two, for trips to family in Canada – but at the same time, giving our readers double issues the month before each trip). We printed S&S for 166 months in those 14 years, and loved every one of them. All we ever looked for was a 'thanks' for our efforts, and we got them, hundreds – no thousands- of them.
The biggest plaudit we received was from John Gerber, who was a good friend, and a world traveller on his Vespa. John was a man with exceptional knowledge of the Vespa and its markets; he was a man who, in one year, travelled from Boston (USA) to Tierra Del Fuego, South America – a 25,000 mile trip in a year. I at last met John face-to-face after many years of communication, on Walnut Street Bridge in Chattanooga, Tennessee, at the 2008 AmeriVespa scooter rally. Being a couple of old timers in scootering, we were being interviewed by a young lady from the local paper, and I commented to her about John doing all those miles, stating he must have had an arse like an ironing board – what a guy! John stated to the young lady, that S&S in fact kept scootering connected with the link to the readers. He enthused about when he found out the first time about S&S in the early 70s and how it gave him the belief that scootering was alive and well thanks to S&S. We never thought of it that way, but we agreed that our enthusiasm did in fact bond scooterists.
ON REFLECTION
It is amazing in today's computerised world what we actually produced back then. There was no internet as we know it today, and no computers. It was home-spun, and we were proud of it; so too were our readers. It was produced at the time with the affordable technology to hand. S&S is still our limited company, just in another field. S&S however, is still under copyright.
Sadly, when 'British Scooter Scene' appeared on the shelves, then 'Scootering' magazine appeared, we knew our time was over, it had passed. The magazine brought us many friends – most of them still keep in touch, one way or another.
S&S was never meant to be a commercial enterprise. It was a good effort at keeping the news filtering to its readers. The Kerr team, Janet, the then 'kids', Robert and Kirsteen, plus yours truly did our bit to keep scootering together; albeit we didn't see it that way at the time, but boy-oh-boy, did we have fun doing it!"
Norrie Kerr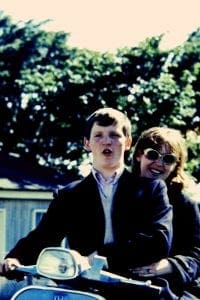 Norrie and Janet on the Isle of Man during 1968