Duchinni Mirage boots
RRP: £74.99
Reviewer: Mau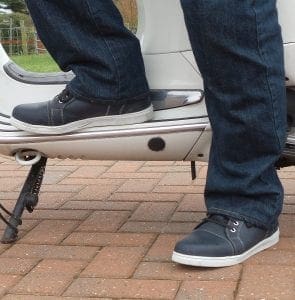 I like a pair of riding boots that look stylish and these Mirage boots certainly fit that brief. They are part of the Duchinni 2015 boot range which includes a variety of styles to suit different tastes and users. All styles cost less than £100, have leather uppers and feature waterproof/breathable linings.
The Mirage style boots are made from tough, but supple full-grain, vintage-look leather, in a classic baseball boot style. The toe and heel cups are reinforced, but this isn't obvious from the clever styling. A pull-tab is fitted on the rear of each boot, making them quick and easy to slip on your feet, and once on, they are secured by a traditional lace fastening which gives the wearer a firm, adjustable personal fit. They are produced in men's sizes 6 ½ to 11 ½ (Euro 40-46).
Duchinni claim that the waterproof and breathable fixed liner will keep the wearer's feet dry when the weather isn't – and it certainly wasn't on my initial 200 mile test ride. They did appear to live up to that claim though, and I suffered no water ingress during my journey. The damp weather also made the road surface slippery and when the need came to put my feet down at traffic lights and road junctions, the fitted oil-resistant rubber soles provided a firm footing on slippery surfaces. Taking into account that there would be a 'bedding-in' period as this was the first time of wearing these boots, they felt remarkably comfortable at the end of my trip. This was good news, as I intend to be making regular use of them during 2015, so they have a few more miles to travel yet.
Info: www.thekeycollection.co.uk / 0117 9719200