We've featured one of Tim Wilson's scooters before. He doesn't do things by halves, as you can see from his latest creation. Purists, turn away now…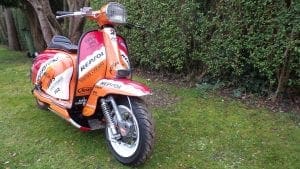 Tim first flagged up on our radar way back in 2005 with another custom scooter that he'd built – a 'Lamsuki 380' (issue 43). He's been around the scooterist scene for many years with him and his brother Andy owning many scooters between them during the 1960s and 70s; these tended to be mainly Piaggio scooters back then – and in fact, his first scooter was a birthday gift – a Vespa 90. Over the years, he's developed an interest in all things two wheels and currently has a mixed collection of Suzuki motorcycles, a Vespa GTS250, a 1960 Li 175 and other forms of two wheel transport (in fact he's just about to attempt a UK charity ride on one of his old pedal powered mopeds – good luck to him on that one). But beneath all of this, Tim has always been a scooterist at heart; in fact he's never missed an IoW international scooter rally in the past 20 years; according to him: "the rallies just get better, meeting up with new and old faces every time".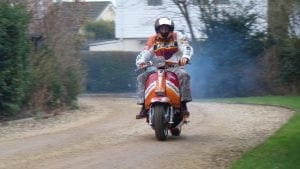 Despite his early induction to scooters via the Vespa marque, Tim's favourite all-time scooter model is the Lambretta GP200; he is also well into custom scooters – not just something that has a nice paint job, but something that is one-off and unique (I think you can see where we are going with this).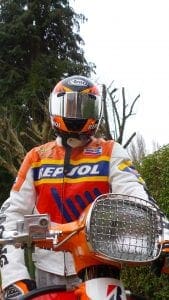 The scruffy scooter featured here is Tim's latest creation; I think I should point out that it's not the scooter that's scruffy, but Tim himself – it's a nickname that has stuck and he likes it – it's also the reason you don't see any photos of Tim here without his helmet (sorry mate, couldn't resist that one)!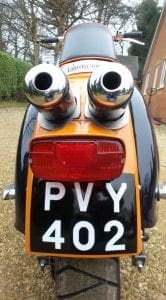 The project first kicked-off a couple of year back, to which some of his friends have donated various parts from different scooter models, including Gilera, Lambretta GP and Series 2, plus a Yamaha RD350 YPVS. One of the main sources for the parts he did have to buy was local company, Grand Prix Scooters: "They've always been good to me and given me a discount price on anything I've purchased there – so thanks to Phil, Dick and Steve for their help and assistance".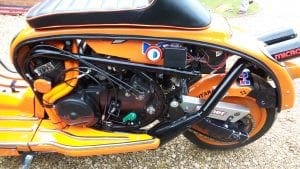 Because it basically looks like a Lambretta that what I'm calling it – but Tim calls it his Repsol 362 (Repsol because of the Honda race paint scheme, and 362 because of the tuned engine). In fact, part of the inspiration for paint scheme came from the purchase of a Repsol-themed leather jacket – to which he has added the word 'Lambretta'. And whilst we are talking about the paint scheme, I think I'd better tell you that Tim did it using spray rattle cans. To be honest, it's the best rattle can spraying I've ever personally seen and I've have been hard pushed to identify it as such had Tim not told me himself; it just goes to show what you can achieve.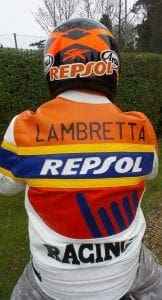 Everything on the scooter has been done by Tim, who estimates that he has spent around 2,000 hours build time, spaced out over a couple of years. Obviously shoe-horning a Yamaha engine into the frame has meant several modifications which have included body alterations to allow for swing arm clearance. The sidepanels have been extended by 75mm and Tim has also adapted the frame loop to accommodate the engine.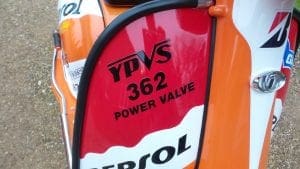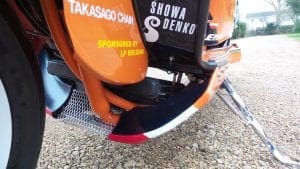 The Yamaha power unit started life as a standard RD350 YPVS engine which produced 59bhp at 9,000 rpm. But it has now been bored out to 362cc and ported/jetted to suit the micron pipes and filters used in the rebuild. A lot of 're-routing' was required and those aforementioned pipes look visually stunning sticking-out through the centre of the rear frame. "Calculating the correct drive ratio  for the drive sprocket was a bit of a mare" says Tim. "As I'd used the original rear sprocket with a smaller diameter rear wheel, I had to make a larger front sprocket (there is a method to calculate it on the net, but that's a boring story). Every other part of the build was suck it and see".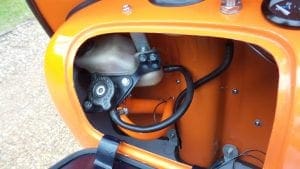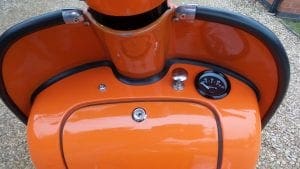 So is the project now finished? Well no, says Tim: "I'll probably let Chalky at Replay have a play with it on his dyno – he'll like that!  There are also a few cosmetic changes still needed – the fuel tank, for instance, is currently quite small, so I'm considering fabricating a larger one; I'm also not 100% happy with the swing arm setup. That and a few other cosmetic changes still need to be done". Still, at least it keeps him out of the pub!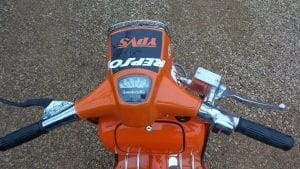 Performance? According to Tim, it handles well out on the road. As to reliability and top speed, we'll let him have the last word: "Yamaha engines are renowned for reliability and durability – as for top end – I don't want to know…"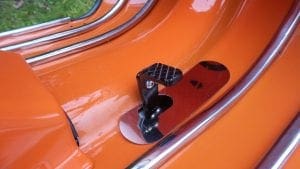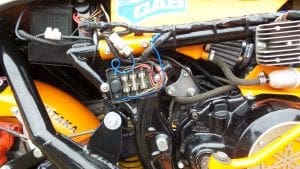 Words/images: Mau