Riding in winter doesn't have to mean that Jack Frost takes a nip at your toes and fingers. Carli Ann Smith takes a look at things you can do, for a range of budgets, to yourself, your bike and your riding gear.
Riding your scooter when the temperature is down in the single digits doesn't have to mean that you dread mounting your stead. With some planning ahead and a bit of preparation it's possible to be toasty and warm, or at least maintain a comfortable temperature, while you're out on the road.
Being cold isn't only uncomfortable; it can severely affect levels of concentration which can mean the difference between staying on and toppling off your bike. While temperature alone doesn't change the way your bike handles, often the weather associated with colder weather – rain, snow, ice, black ice, wind – can.
So why not limit one of the factors that you can control and ensure your core temperature is warm and your concentration is high? We take a closer look at what you can do – everything from base layers to outerwear and we look at the power of a simple hot drink…
Why is it important to stay warm?
Inspector Mark Rogers of the Cambridgeshire Constabulary Roads Policing Unit explains… "Being cold and wet on the bike is not fun. In fact, it is so stressful and tiring, you actually become less alert, slowing your reaction times and leaving you at risk. I find that insulated, non-bulky, wind and waterproof gear will maintain your body temperature and keep you at your sharpest when out on the road. Multi-layering works best and its important make sure you are able to handle your machine controls easily and effectively. There's nothing worse than a bulky pair of gloves which make you catch your horn when you reach for your indicators!"
YOUR BIKE
Let's start with the basics… it may be worth asking yourself whether you're going to be riding your bike all year round. If so, why not try and strike a deal and get accessories such as a flyscreen thrown in with your purchase? Have a look around at other types of accessories available.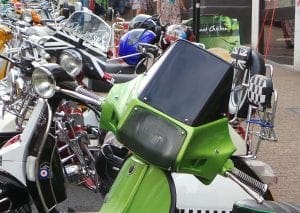 Flyscreens – not only do they cut down the wind-chill factor, they can prevent you from tiring after a battering from high winds on the motorway. They have the added benefits of helping to keep the grime and rain off your visor too…
If you ride a modern auto ( a Vespa GTS, for instance) you can pick up heated grips for a lot less money than you may think, with some sets starting at just £39.99. They're a fantastic addition to your handlebars and can often be fitted at home.
YOUR GEAR
Riding gear has changed dramatically over the last hundred years and there are an abundance of products on the market all with the aim of keeping you snug and dry. However, with so much to choose from, where do you start?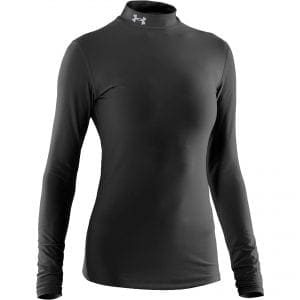 BASE LAYER
This is the layer worn next to your skin with the aim to keep you warm and wick away moisture (a.k.a. sweat) from your body. In colder weather a thermal top and trousers are a great choice. Don't forget your arms – so look out for long sleeved options. Don't assume you have to go for expensive thermal layers, head down to your local high street shop to find cheaper alternatives.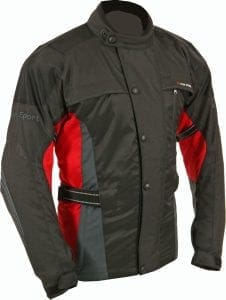 MID LAYER
Whether you choose to wear textiles (or even leathers, as some scooterists now do), it's essential to choose a riding jacket with an inbuilt thermal liner. Many jackets have removable liners so that they can be used in summer as well as winter. If you've already bought a jacket but it's not warm enough, why not thinking about adding a fleece jacket or a heated gilet on the inside. Add extra layers for warmth by putting a thin jumper underneath too.
OUTER LAYER
The aim of this is to keep out the wind and the rain. A one-piece rain suit or a two-piece rain suit will do the job. Look for products that say they are breathable as while you're working hard to keep the moisture out, you don't want it building up on the inside.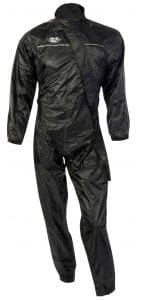 As the name suggests, a one-piece rain suit consists of an oversuit with a zip down the front. Often the zip is longer than on conventional suits because it allows you more space to get in and out of – plus it makes it easier to get on over your normal riding gear.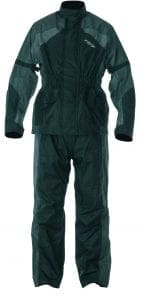 With a two-piece suit, you have the option to wear the jacket and trousers separately. Sometimes you can buy both pieces separately too.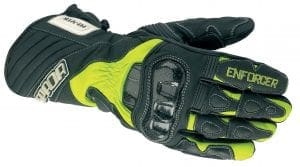 HANDS
Look after your hands with some good winter gloves. Watch out that they're not too bulky – you need to feel the controls properly! It's important that your hands stay functional as they're in charge of some very important controls. Ensure your gloves are waterproof as your hands are one of the first things to take the brunt of the weather.
[Cheap cheat: Find that your hands still get wet or don't want to fork out on a new pair of gloves? Try putting some latex gloves or household rubber gloves on the inside of your riding gloves].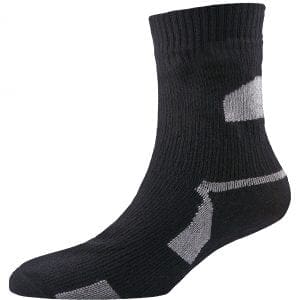 FEET
If looking to purchase a new pair of boots, look out for boots that are waterproof; they often have extra liners in too to keep your tootsies warm! If you've already shelled out on a pair which aren't waterproof then why not think about some waterproof socks? If you find your feet get really cold then have a look around for some heated insoles.
TOP TIP: Carrier bags can be used to keep the water out in really strong downpours.
YOU
As silly as it sounds, simply having a full tummy can help you keep warm. While your tummy is working hard to digest your food and break it down, your cells are generating heat while they're working. Feeling chilly? Why not pull over and have a hot cup of tea? For the sake of £1 (depending where you stop!) you could make yourself feel a lot better and warm through.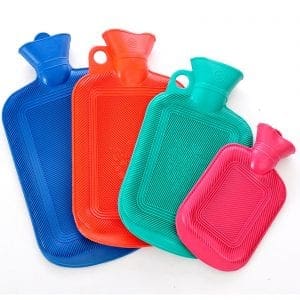 Fill up a hot water bottle and put it down the front of your jacket to keep warm. Make sure all the air has been pushed out so that there is no danger of it bursting and do it up securely!