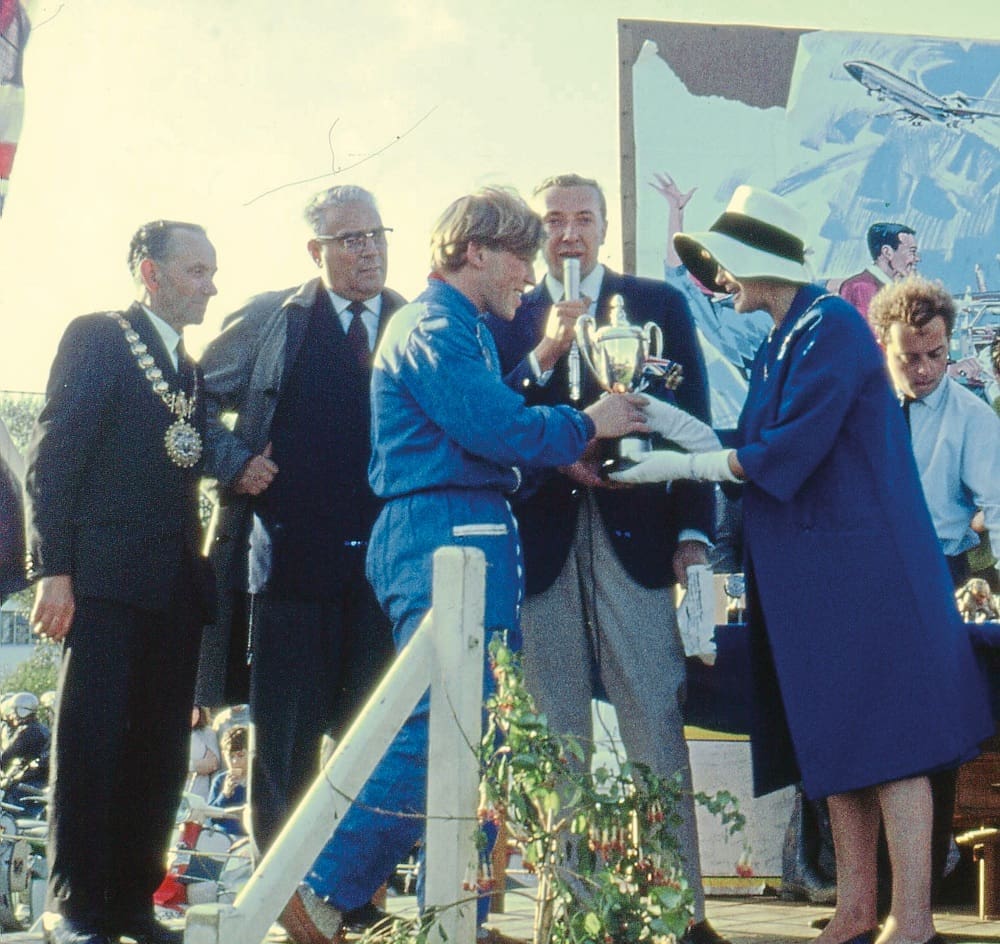 Regular readers will know that Editor Mau not so long ago became the owner of over 300 trophies and racing mementos that once belonged to scooter racing legend, Nev Frost.
The collection is something to behold and from time to time I'll be pulling a trophy or item from it and telling you the back story. After all, these trophies represent part of the scooter racing heritage.
In one of the collection boxes was a trophy that caught my eye. It was the plaque on the base which reads 'Lambretta Club International, Ferdinando Innocenti Challenge Cup, Scooter Rally Southend, 3-4 September, 1966'.
Now if that wasn't a mouthful enough to spark my interest, then I don't know what would! However, trying to find out about how Nev got this trophy proved to be something of a long-winded affair. Casting my mind back to when Mau was cataloguing the trophies with John and Norman Ronald, I was reminded that Norman kept picking it up and asking how Nev had won it, as he (that's Norman) had won everything in 1966. So this got me thinking. Had Norman won the trophy and not Nev, and if Nev hadn't won it, what was he doing with it?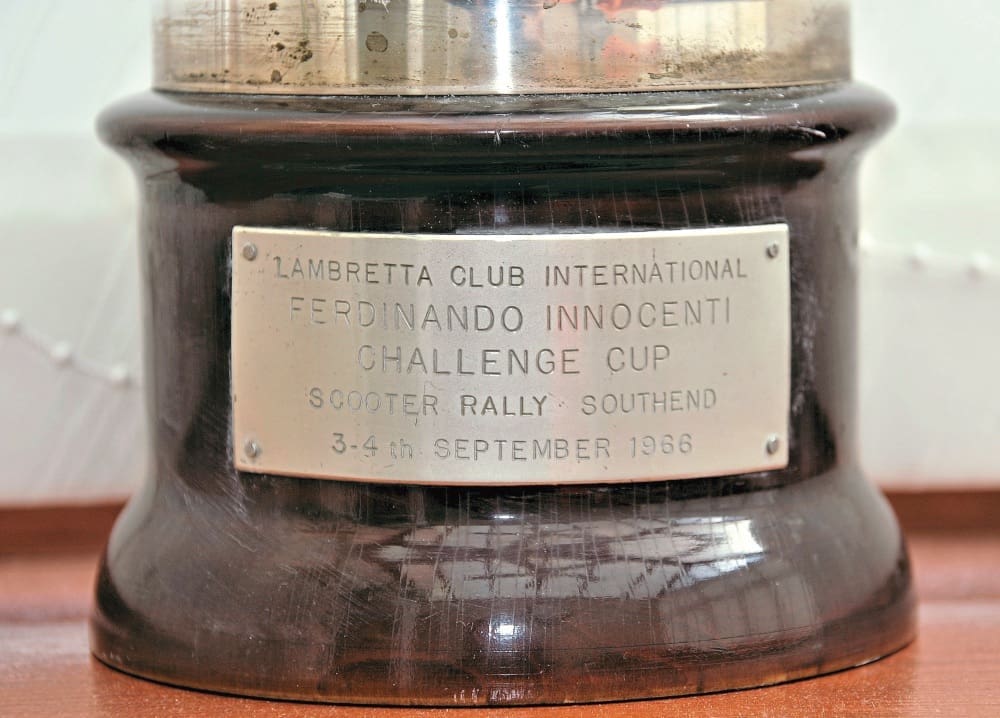 Southend 1966 was no different to any other LCGB rally in the Essex town. Southend had long been a favourite with both the LCGB and its members. What marked 1966 out was the fact that due to a strike by seamen on the ferries bound for the Isle of Man, there was no Isle of Man Scooter Week. In an effort to provide something for all scooterists, the LCGB threw open the doors of their rally to riders of any make or model of machine – a massive gesture by anyone's imagination.
Trouble is, what the scootering Press of the time forgot to mention, was the trophy and who won it? Take the October 1966 edition of Scooter World. A two-page rally write-up and photos – but no mention about the trophy. The article does mention that the then 22-year-old Norman Ronald had won a golden Lambretta GT200, provided by the Daily Mirror.
EPSON MFP image
Norman had gained a total of 309 points over the year's events – 59 points ahead of his brother John. He also won 100 gallons of National Benzole fuel. The rally even mentions that the newly formed Supertune were getting plenty of attention (Nev would go on to work for the Croydon-based shop), and while Watford Lambretta Club got the most people on a Lambretta (10 on and around it), Nev's club, The Bromley Innocents, got more people on, although they seemed to fall off as fast as they climbed on.
The two colour images you see here (courtesy of Norman Ronald) show him being handed the trophy at the Southend Rally. The second image, which includes Joan Thorne (winner of Miss Lambretta International), shows the golden GT200 in the background. What I can say is that the trophy no longer has its top (I guess that's as much a mystery as how Nev came to have the trophy in his possession).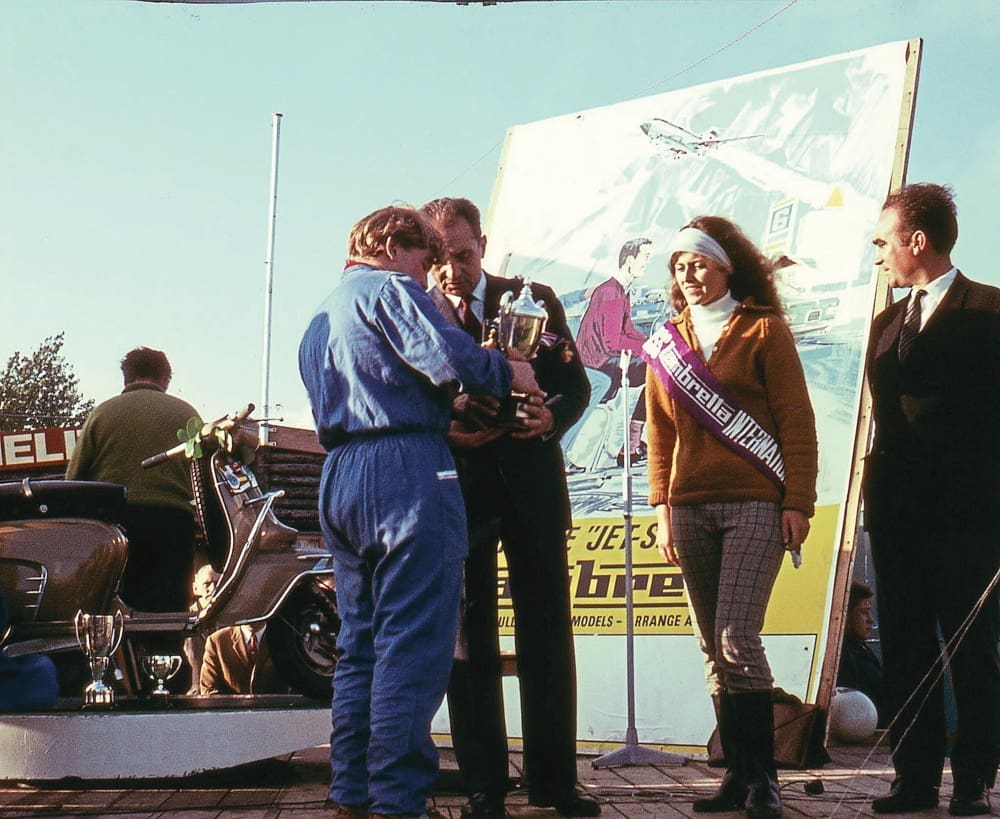 Digging around in the archives and asking knowledgeable folk like Richard Soloman and Pete Davies hasn't revealed any information to show that the trophy was ever won in 1967.
Issue 7 of the LCGB's club magazine, Jetset, had a small image of the cup, with a small mention which simply said that a special memorial trophy valued at £30 would be awarded to the Rally Champion. The results page in Jetset clearly shows that Norman Ronald was the Rally Champion, so the cup was his. The results included those for the Rough Ride, Slow Race, Slalom, La Ronde and others, but nowhere does Nev's name appear.
Somehow (and as Nev's no longer with us) we will never know how he came to be in possession of the trophy. I guess what matters, is that the trophy still survives as a piece of British scootering history and wasn't lost to the scrapheap.