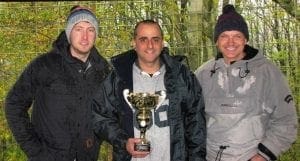 May 2-3, 2015
The date was set to become a landmark in the scooterist history, as it was the first time scooters had ever competed in a class of their own on the Olivers Mount Hill Climb circuit, in Scarborough, North Yorkshire.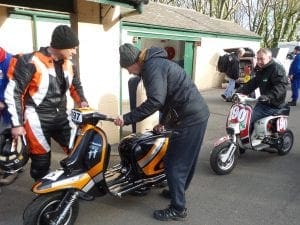 Organising this event hadn't been easy from the outset; there was an immediate barrier to overcome before discussions even began; it emerged that a scooter rally had been held in the area during the 1980s, resulting in some of the circuit's building being destroyed by fire – since then scooterists have not been welcome.
After some persuading, Olivers Mount eventually agreed to allow scooters to participate and another problem materialised – the date of the event. Part of the Hill Climb circuit is a public road and the local council have to grant permission for its closure; they would only give permission for two hill climbs per year – on in May and one in August – so it was a case of which one to choose; both created their own problems but at the end of the day, it was felt that going for the May Day weekend was the better option of the two. Unfortunately this not only meant a clash between the BSRA National Rally in Weston super-Mare, but also with the popular east coast alternative, the Skegness Scooter Rally; a third issue also reared its head in the shape of the British Scooter Sport Organisation's event calendar – they were competing over two weekends in May and individual racers didn't want to risk damaging their machines and not be able to compete in the BSSO rounds.
With all of this as a background, the SOTM organisers had an uphill battle on their hands (no pun intended). Initial response to the announcement of a scooter hill climb drew a large positive response from scooterists who said they were going to enter – unfortunately, at the end of the day, many of those individuals didn't put their bikes where their mouths were.
At the close of entry, there were 11 bikes registered for one generic scooter class – instead of the individual classes originally intended (best geared, best auto, best tuner, etc, etc). At first this appeared to be a little disappointing, but on looking at the individual motorcycle classes which varied from seven to 12 per class, an entry of 11 wasn't that bad. It would have been nice if it had been more though; there's always a few rumbles of there not being enough happening in the scooterist world, but at the end of the day, if people don't show any support for events, then they will only have themselves to blame.
Friday evening saw a hive of activity in the pit area with scooters scattered amongst the motorcycles; there were a fair amount of trick cars competing, but they were marshalled in their own area. Scootering can be a strange world; at what I'd term an average scooter rally, there can sometime be heated debates on various subjects (Scooterboy, Mod or Skin; geared or auto, etc); these can sometimes develop out of hand. Conversely the scooter sport world might be heavily contested on track, but off it's a different matter. Everyone was friendly and ready to help out others wherever they could with tools and loaned parts flying to and fro.
CREATING SCOOTER HISTORY
Saturday morning, the scooter scrutineering of the scoots started early with Chalky from Replay Scooters acting as the scooter scrutineer for the weekend. There were a few individual hiccups, but nothing major to spoil the day. A brief 20 minute rain shower just prior to the start made the track slippery, so the cars went on first to help dry the track out; these were followed by the bikes, and then lastly, the scooters. Whatever was to happen from this point onwards would be creating scooter history; not only was the first time that scooters had competed in their own class, but whoever managed the fastest times of the weekend would effectively be setting new records for the scooters – and although Olivers Mount were treating it as one overall class, the SOTM organisers had taken the view that there would be two scooters records – geared and auto – set over the weekend, as well as an overall scooter champion.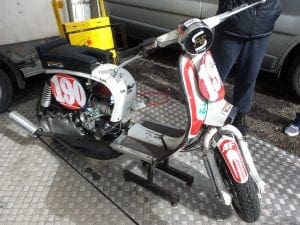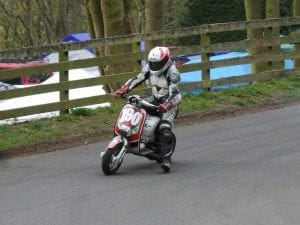 The weekend will be remembered for a variety of reasons. One of the early competitors was Steve Wright who immediately created a stir by competing on Ray Kemp's (AF Rayspeed) own personal Group 6 racer, which hadn't seen the light of day in many a year – unfortunately Steve seemed to quite adept at finding more gears than there were in Ray's original gearbox, costing him a few precious seconds. Normally used to sprinting in a straight line, Pete Newbold (100mphscooter.com) initially had a few problems with the corners, ending in impromptu cone slalom as if he was taking part in a gymkhana – nice one Pete. Another highlight of the weekend came when young 12yr old Gareth Arnold took to the track for his first ever race – could he be a future champion in the making?
However, the main surprise for everyone (apart from the scooterists that is) was just how quick the scooters went up the hill. Some of the times left a few of the larger capacity motorcycle entries hanging their heads in shame with scooters achieving times in the mid 50 second bracket; when you consider that the track record for higher powered motorcycles is in the mid-40s, that ain't bad going at all!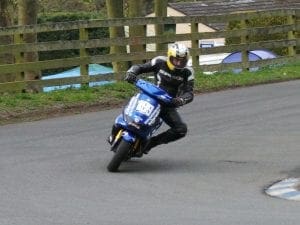 So who were the stars of the show? There was no doubt as far as the autos were concerned as BSSO champion, Craig Bewey, on his PSN-prepared Runner effectively wiped the board clean for the autos, and then going on to win the overall scooter class. The competition amongst the geared bikes was more closely fought with two privateers – local Scarborough rider, Nick Gledhill and Eric Cope – posting times with only split seconds in between them on their respective Lambretta GPs.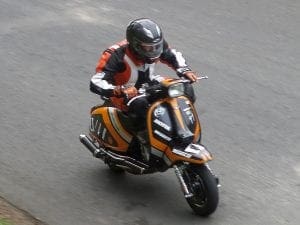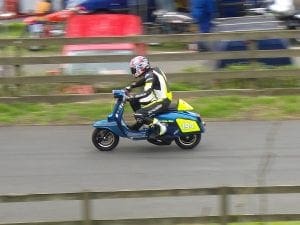 Of those who competed, everyone enjoyed themselves and is eager to compete again next year. As far as those spectating were concerned, I heard no negative comments. So in all respects, the event was a success.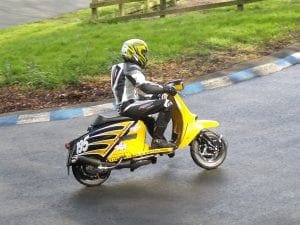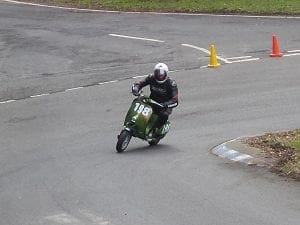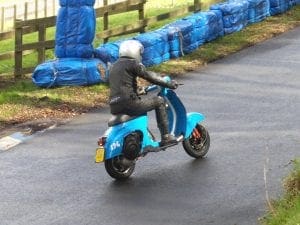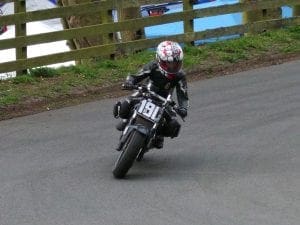 THANKS & ACKNOWLEDGEMENTS
Thanks go to all those who took part – competitors and spectators – for helping to make this event a success and to set the bar for future events. Special thanks to the following for sponsoring and organising the event:
Chalkie (Replay Scooters)
Pete Newbold and colleagues (100mphscootersprinting)
Daz Kane (DKS Race Team)
Classic Scooterist magazine (am I allowed to thank myself)?
Words: Mau
Images: Mau, Daz Kane, Pete Newbold