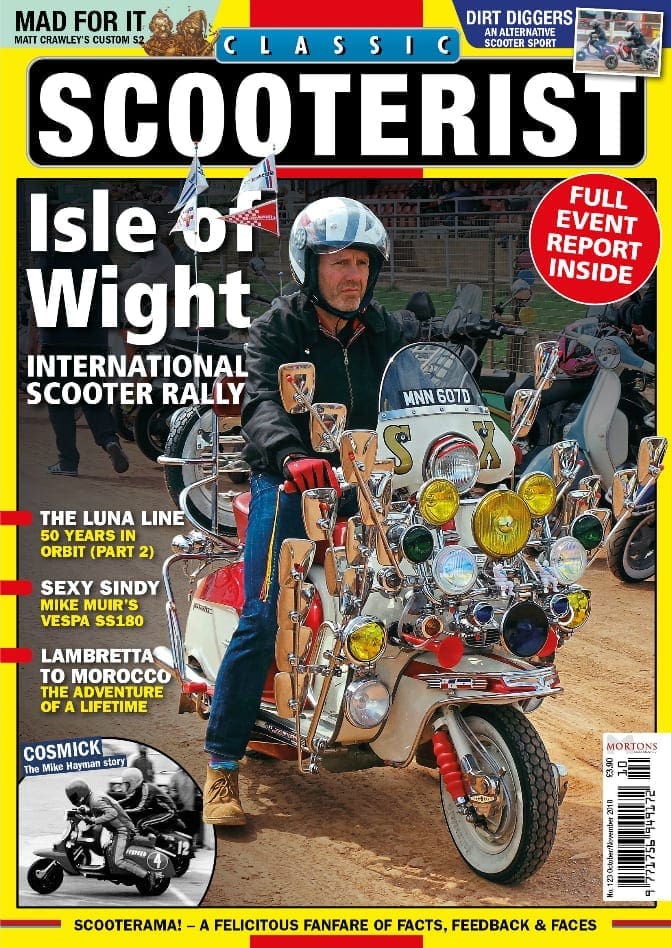 The latest issue of Classic Scooterist is out now! Get yours at any discerning newsagent or subscribe to get your copy delivered every two months.
Back when we had hair
Nostalgicic memories from times gone by
Scooterama
A felicitous fanfare of facts, feedback and faces
What's going on?
A look at the scooterist calendar
Isle of Wight International Scooter Rally
Full event report. Were you there? Did we take your picture?
Veston Partin DBT5
You only scoot twice…
Cosmick
The Mike Hayman story
Sexy Sindy
The Vespa SS180 – the last of the piston ported Vespas
The Luna Line and the UK market
Pt 2: in orbit
Back in the day
It can get lonely on the Yorkshire Moors
Mad for it
Matt Crawley's custom Lambretta Series 2
They think it's all over…
Colin Cartwheel reflects on the trips of a lifetime
Project E
The classic answer to your carbon footprint problems
'Little Star, shining bright'
Richard Gabb's Lambretta Super Starstream
Keeping it in the family
Fred's 152L2 Vespa
Trials and tribulations
The art of touring
Rally round-up
A quick glance at recent events
Dirt diggers
Scooter racing with a difference
Scooter clubs
Meet and greet your local clubs
Scooterist classifieds
For all your wants and needs
Blast from the past
The Motobecane Moby