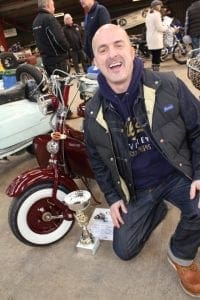 Have you entered your scooter in the Custom Show at Scooter World 2017 yet? The Custom show categories have now been announced, so here's the perfect opportunity for you to win the prestigious 'BEST SCOOTER IN SHOW' trophy, plus a prize of £100 and years free subscription to either Classic Scooterist or Scootering magazines.
There's also the opportunity to win a £100 prize in 'BEST SCOOTER DISPLAY' class which again comes with a prestigious trophy and free subscription. You can enter this hotly contested class either as an individual with interesting scooters, memorabilia, etc, on display; or as a scooter club entry.
Other custom show trophies also come with a year's free magazine subscription; the category classes are as follows:
BEST CUSTOM SCOOTER
BEST LAMBRETTA
BEST VESPA
BEST STREET RACER SCOOTER
BEST ORIGINAL-LOOKING SCOOTER
BEST OTHER SCOOTER
On top of this we have 10 'Highly Commended Scooter' rosettes to give away, as well, so get your entry in now. Go to http://tinyurl.com/hjwkg38 and click on the 'Bookings' link where you can download an entry form.
[Scooter World takes place on January 7-8, 2017, as part of the Carole Nash Classic Bike Guide Show. The event is held at Newark Showground, Lincoln Rd, Newark-on-Trent, Winthorpe, Newark NG24 2NY].
VISIT THE SCOOTER WORLD FACEBOOK SITE
If you want to keep up-to-date with exactly what's happening at Scooter World, then visit our dedicated Facebook page at the following address:
https://www.facebook.com/TeamScooterWorld/