Sometimes, things are worth waiting for and Alan 'Gibbo' Gibbs certainly thinks so, as he waited 12 years to get his hands on the scooter featured here.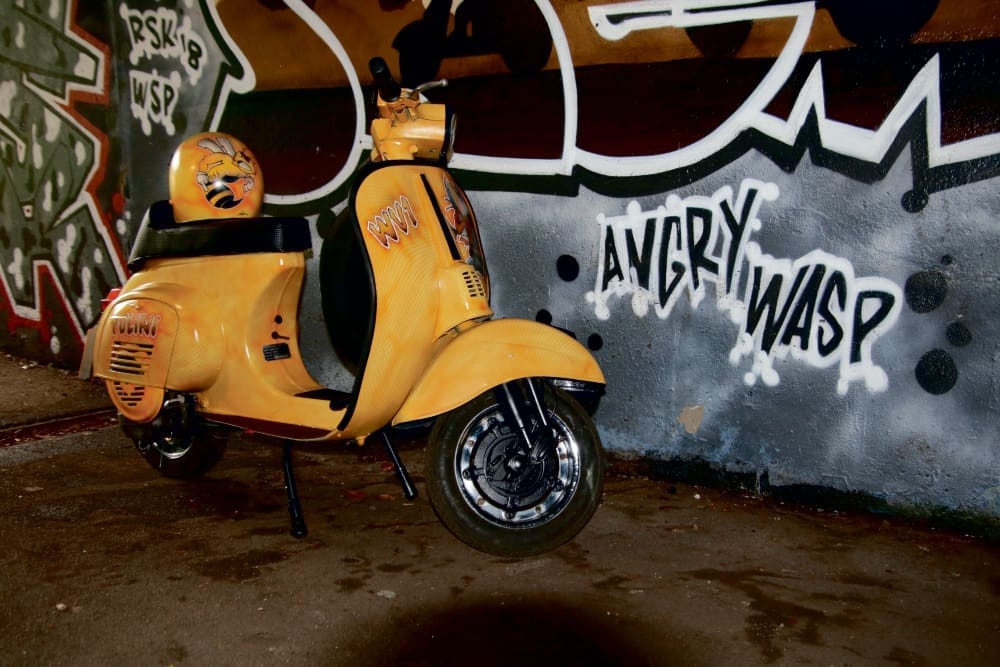 If you read the previous feature on Craig Meers' PX125 Disc, you'll immediately see a connection between Gibbo's scooter and Craig's, which is clearly illustrated by the graffiti paintwork on both bikes.
But that connection is even more intertwined than you might think; firstly it's pretty obvious that the graffiti paintwork has been done by the same person – Craig (aka Skema) – and secondly because Gibbo actually purchased the Vespa from Craig's brother, Paul.
Although the Vespa 50 Special was destined to become Gibbo's latest scooter project, he isn't a newcomer to the scooter scene by any means – in fact he's been into it since the 1979 Mod Revival period.
His first scooter was a Vespa 90, which he paid £90 for (or £1 per cc as he puts it). His first proper rally was the now infamous Disc 85, riding there two-up on his brother's Lambretta; the event didn't go too well for him as he ended-up with food poisoning (by his reckoning, caused by dodgy rally burgers). This however, has been offset by happier memories experienced at other scooter and music-related events – especially of riding his scooter to Northern Soul all-nighters and meeting up with great friends.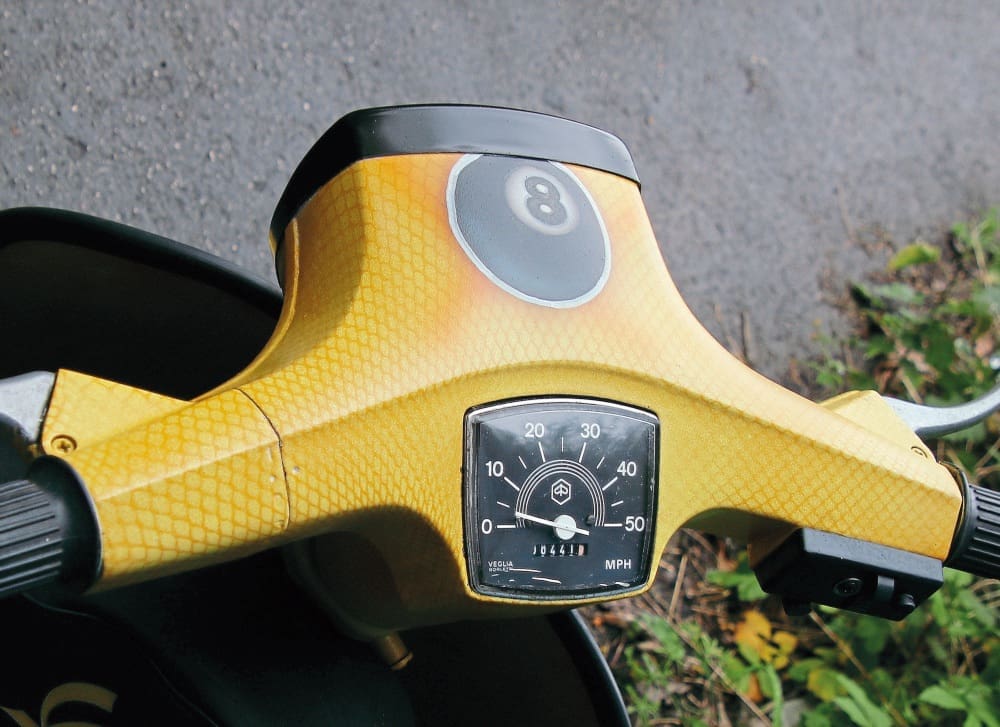 One incident from his distant past that still sticks in his mind was when he saw a skinhead girl on a red V90 going the opposite way – he nearly came off trying to catch her up, whilst having no brakes on his scooter at that time. Other memorable experiences include locking-up his 225 at a Galley Island event and doing a 20-yard skid. He fitted a new piston and was back on the road next day.
THE LATEST ACQUISITION
Getting back to the project in hand, when Gibbo purchased the 50 Special around 12 months ago, it hadn't been run for around 12 years, but (even though it was still on old 6v points) it fired-up on the third kick.
It wasn't in the plan for the scooter to remain in the condition it was and Gibbo had formulated his own plans to address that; however, around the Wolverhampton area where he lives, he's well known for being a bit of a technical guru, so it took a little while to get those plans underway, what with having to fit in building engines and scooters for other friends.
Eventually getting time to work on his own scooter, Gibbo rebuilt the engine using an early Polini 135cc cast barrel/Polini reed valve and filter all married-up to the original 50cc engine casings, then up-geared it to suit.
"A new piston has been fitted and the bike is still being run in, but it should be good for 60mph," he said; "Maybe I'll fit a Quattrini kit later on to improve on that."
VESPA ARRABBIATA
The graffiti paintwork was done by mate Craig in a sort of 'help for help' reciprocal deal, whereby Gibbo helped Craig with the mechanics on his PX and in return he did the graffiti work on Gibbo's scooter. And it's not hard to see where Gibbo got his themed inspiration from when he named it 'Always Angry' – after all, Vespa in Italian translates as 'wasp'.
BUZZING AROUND
Being a member of WV1 SC, you might see Gibbo buzzing around on his 50 (135) Special, so keep an eye out for him. And if you get a chance, take a closer look to see all the detail – I'm sure that Gibbo will be only too willing to tell you all about it.
Read the FULL article with even more pictures in the Aug/September issue of Classic Scooterist! Click here to purchase your copy.