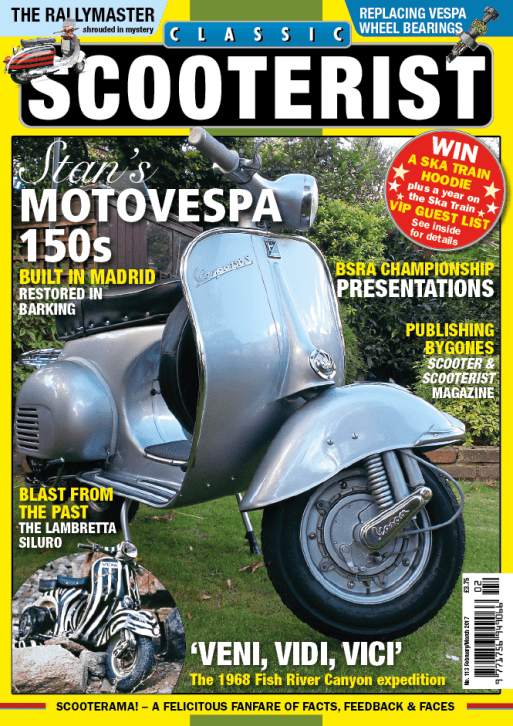 Back when we had hair
Nostalgic memories from times gone by
Scooterama
A felicitous fanfare of facts, feedback and faces
'One Step Beyond'
All aboard The Brighton Ska Train!
"You've got mail"
Readers express their views, ask questions and show us their pictures
What's going on?
A look at the scooterist calendar for the year
Events round-up
Coverage of recent events
"Stan's MotoVespa 150s"
Salvaging the past
The Honda Juno KA
A scooter ahead of its time
The Rallymaster – and then some!
Promoting an image
Looking the business!
Iso Milano (Diva) De Luxe 150
Back in the day
The 1958 Earls Court Show
Tabby's Indian GP200
Good things come to those who wait
Publishing bygones
Scooter & Scooterist magazine
Inside story
The Stadium brand lives on
Trials & tribulations
Brid or bust!
Too good for the garage
Is the scooter merely another form of transport?
The 1968 River Canyon Expedition
A Vespa resting among the rocks provides some strange images
Vespa front wheel bearing replacement
A job for the home workshop enthusiast
Three chairs
Concluding our epic saga
Scooter clubs
Meet and greet your local club
Luna Owners Club
A club profile for the Luna-tics
Back to the Sixties
A Cheetah in Carnaby Street
Scooterist classifieds
For all your wants and needs
Blast from the past
Two-stroke tuning