ISBN: 978-1908211-75-0
Price: £16.95
Author: Martin 'Sticky' Round
Publisher: Carpet Bombing Culture
Reviewer: Mau
Having had an obsession with two wheels since the age of 14, virtually all of my teenage years were taken up with the scooter scene of the Swinging Sixties (as it has since become known). But by the mid-70s with life and responsibilities both demanding attention, it was time for me to move on in with my life.
However, by the early 90s, with the younger family members now at the age where they leave the nest, my scooter interest finally had a chance to resurface. So in effect, I had missed out on around 15 years of the scooter lifestyle.
Scooterboys, The Lost Tribe, effectively focuses on the scooter lifestyle history from the point I had exited it back in the 70s. And by that point in time, the scene had changed dramatically, as reflected in this particular book written by Martin 'Sticky' Round.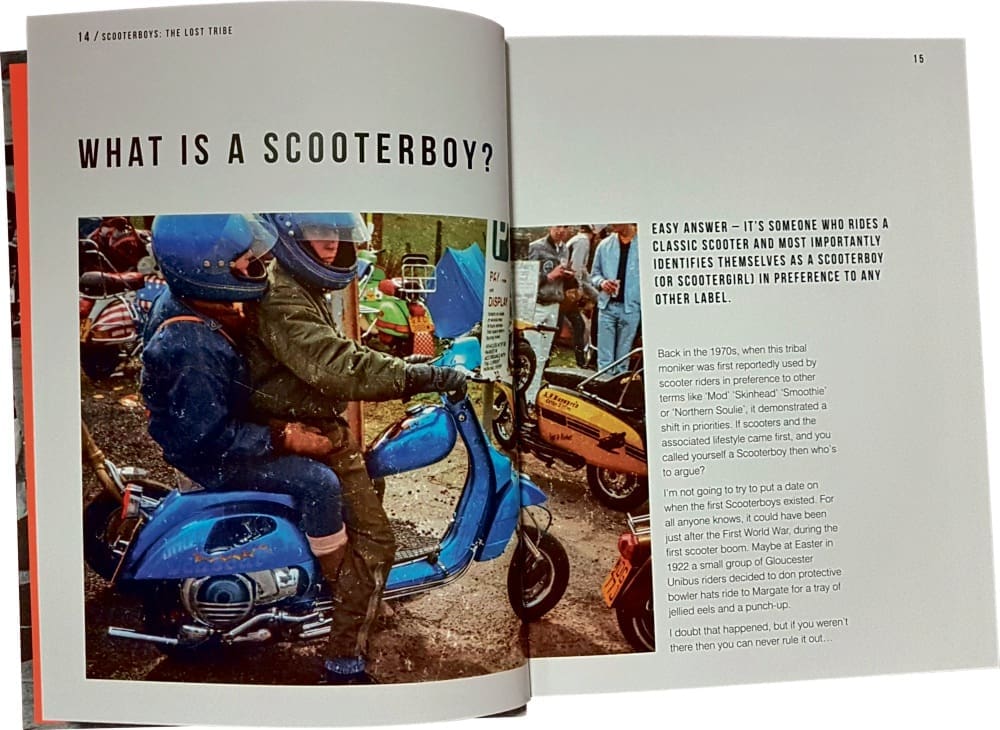 To quantify his Scooterboy tale, 'Sticky' uses his own interpretation of the scooter historic timeline from the mid-40s when the Vespa and Lambretta marques were introduced. The introduction of the Vespa and Lambretta were to become a major game-changer for scooter enthusiasts.
Historically, the scooter lifestyle was at its height during the 1950s and those early days were a much gentler time during which the UK was still recovering from the aftermath of the Second World War; by the time the 1960s arrived, technology had moved on. With new innovative inventions coming out of the woodwork at a rapid rate, the whole era exploded into a myriad of music, fashion and social lifestyle – the UK was finally starting to emerge from the shadows.
By the mid-1970s, not only had technology continued to develop, but people's views of life were changing fast, and it wasn't long before the 'peace and love' of the 60s was quickly replaced by a much stronger attitude towards life – and it's at this point that the heart of this book gets into full flow.
The book works its way through the progression of the Scooterboy lifestyle from its early beginnings to modern-day and, being written by someone who has been part of the Scooterboy cult since its original inception (and is still in that scene today), it's a tale that comes from the heart of someone who still has the same passion for the Scooterboy scene as he had back in the mid-1970s. The storyline is written in an edgy style that only a Scooterboy will fully relate to and embrace it as his chosen lifestyle.
If you were part of that culture, embrace the Scooterboy lifestyle as it is today, or are even just interested in the social history aspect, then this latest book on the subject will be worth its £16.95 cover price.
More info/availability: www.carpetbombingculture.co.uk