Visitors to the January Scooter World show might have seen John Ronald's Lambretta proudly displayed alongside other scooters on the Team S Equipe stand. For those that didn't, here's another chance to see an 'S' Type owned and built by one of the original 'S' Type pioneers.
Back in 1963, John Ronald competed on a Series 3 Lambretta TV175 on the Isle of Man. This would be his first IoM event and the start of him winning many events on the island, amongst other places.
Between 1963 and 1964, Arthur Francis spent most of his spare time experimenting with his own Lambretta TV200, doing some mild tuning to the scooter. The work that was carried out produced definite improvements. He then asked a design expert to produce a paint scheme and a sports rear carrier for the scooter. The next result was the Sebring rear carrier and the two-tone AF paint scheme.
Fast forward to November 1965 and Arthur had a stand at the Brighton show. On the stand was displayed one of his TV200 'S' Types. Following the show, Arthur experienced a fantastic response to the scooter and received numerous enquiries from as far afield as America.
721 VT
The scooter you see here, 721 VT, was registered in Stoke-on-Trent on August 30, 1963. At that time it was a standard TV175 and it would remain that way until 2016. During the late 1960s John and his brother Norman were riders for Team S Equipe, along with Nev Frost and other scooterists who would later become well-known sportsmen, both as part of Team S Equipe and as individuals. This period of time would see the 'S' Type machines being built and sold around the UK.
Success at scooter events by John, Norman, Nev and other riders such as Nick Barnes on their 'S' Type machines was probably the best marketing tool Arthur could have had. After all, what better advert for your product could you have than skilful riders winning events throughout the UK and on the continent?
In 2016 John was contacted by an occupational therapist who he'd worked with at Selly Oak Hospital during the early 1960s. She asked John if he had any idea how much a Lambretta TV175 was worth? Her husband had recently died and she wanted to sell the scooter. John asked as to what condition the scooter was in, and was told that it had been dismantled and was all in boxes.
A chat with brother Norman saw them heading down to Devon to have a look. What they found was probably not what they expected to find. Most of the scooter was in big blue plastic barrels and rusting away. A fair offer was made and the scooter passed into the ownership of John. It was loaded up and taken back to the Midlands, to start its new scooter life in the UK.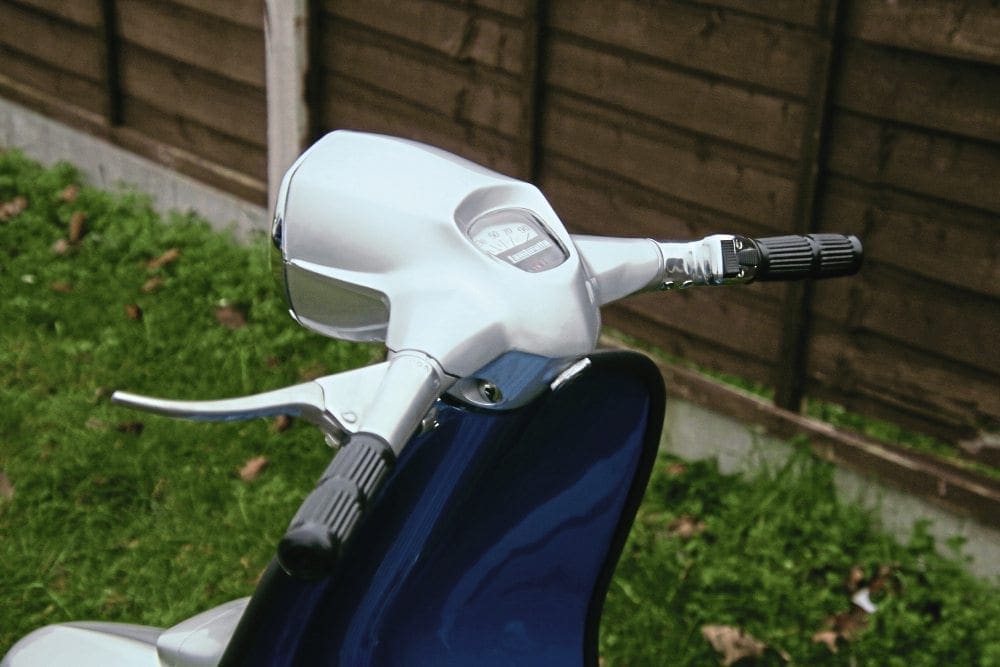 It was clear the project would need some work, but initially it wasn't clear just how much. All the panels were taken off to be dipped and cleaned, and then an assessment was made of what could be saved and what would need replacing. When the panels returned, most of them looked like lace curtains, as John was able to see right through them.
Fortunately, the frame and forks were good. The rebuild of the scooter saw everything being stripped down and assessed, and then rebuilt. The lace curtain-style sidepanels and legshields were ditched in favour of replacement items from Buzz Solomoto in Halifax. The alloy handlebars had to be alloy welded and this was carried out by Western Scooters in Weston-super-Mare. John's local scooter dealer, Scooter Restorations, provided a lot of the smaller parts.
On stripping the TV175's engine, it was clear that a complete rebuild was going to be the order of the day: con rod, crank shaft, piston and a cylinder re-bore has seen the 175 capacity retained; the engine has had all new bearings and oil seals fitted; the clutch and chain were also replaced. The gearbox, when stripped, revealed that a tooth was missing from one of the gear cogs and the gears were well worn. The layshaft was found to be ok, but new double seal bearings were fitted. Now that the new lay shaft and bearings had been precision fitted, it was found that a lot of work had to be completed to make sure the end plate fitted properly. To finish off the engine an AF big bore exhaust has been fitted.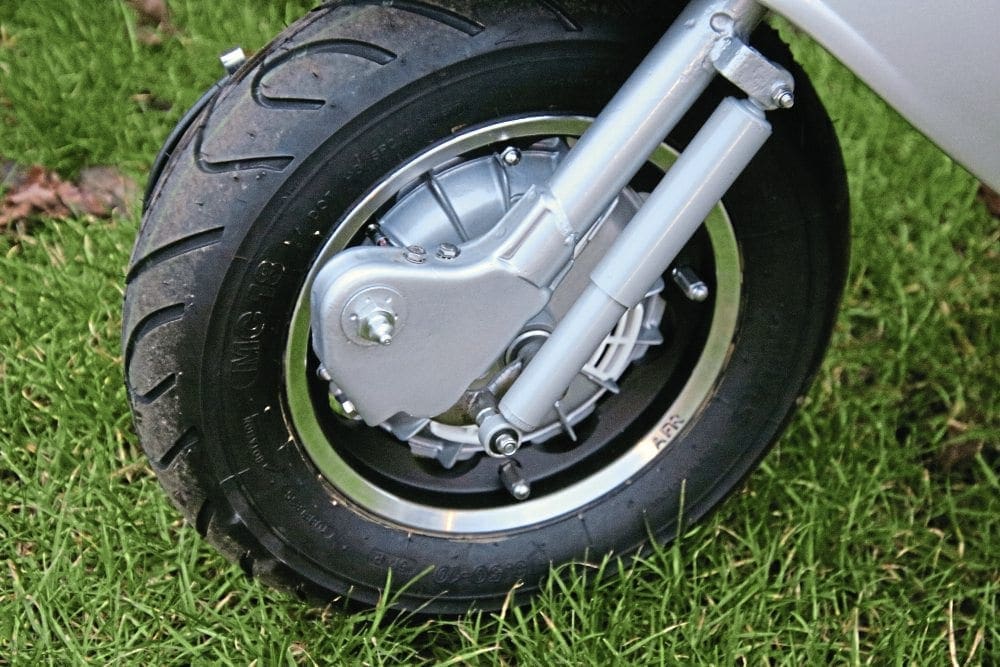 To inject 'S' Type genes into the project the re-bore and fitting of the new bearings was undertaken by Ray Kemp at AF Rayspeed. Ray was also responsible for the painting of the scooter's 'S' Type paint scheme.
The electrics also needed a look at and the wiring loom has been replaced, as well as the main switches, stator plate, flywheel and HT coil. A new headlight unit had to be sourced, although the original rear light unit was salvaged.
Back in 1963 when this scooter rolled off the Innocenti production line it came with what was then a new feature for Lambretta, a disc brake. The one on John's scooter needed to be completely restored and renovated, and is now as good as new. The wheels have been treated to new alloy tubeless rims.
John quite rightly says that when you look at the scooter and everything that has been done to it, it is almost a new scooter. The finished product is the result of two years of hard work finding all the required parts, ensuring parts fitted ok and if not, were fettled to fit, and then the putting together of the scooter. John also found that he didn't realise just how many different nuts, bolts, washers and screws were required to put it back together.
So there you have it, a Lambretta 'S' Type built by 'S' Type pioneer, John Ronald.
Read the full June/July issue of Classic Scooterist now! Click here to purchase your copy.