Check out the exclusive Classic Scooterist Christmas Gift Guide!
Yes, it's that time again. The run up to Christmas can be an extremely stressful time finding ideal gifts for your nearest and dearest. So, we've made your life a hell of a lot easier with our exclusive Christmas Gift Guide! Check out some of these must-haves for you scooterists…
---
1. Make these Street Racers your Christmas read!
Price: £6.99, ClassicMagazines.co.uk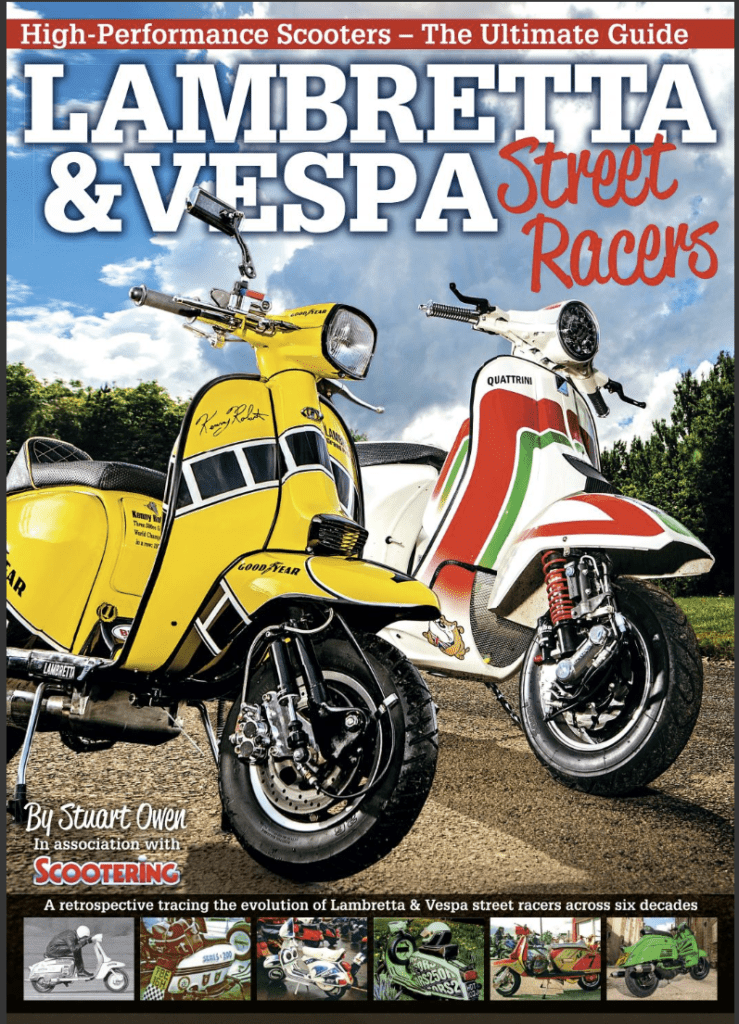 Scooter sales had already peaked in Britain by the mid-1960s – led by the likes of the Lambretta and Vespa. Originally designed as transportation for commuters, the scooter came to be seen more as a vehicle for leisure.
In Lambretta & Vespa Street Racers, author Stuart Owen traces the development of scooter tuning down the decades using dozens of rare period images and highlighting every significant technological milestone along the way. The different but inseparable stories of both Lambretta and Vespa tuning are told in full with compelling insight and expert knowledge – making this a must-read for any scooter enthusiast this season!
Available: www.classicmagazines.co.uk
---
2. Seven issue subscription to Classic Scooterist for only £20!
Price: £20, Classicmagazines.co.uk
What better gift is there for scooterists than seven issues of their favourite magazine? This exclusive offer means you save money and have your magazines delivered right to your door!
A jam-packed bi-monthly magazine that transports readers back to the golden eras of the scooter lifestyle. It features news, reviews, rallies, readers' rides and plenty of nostalgia!
Take advantage of this Christmas offer now!
---
3. Liven up your living quarters with the Lambretta Classic Racer Scooter poster!
Price: £9.99, ClassicMagazines.co.uk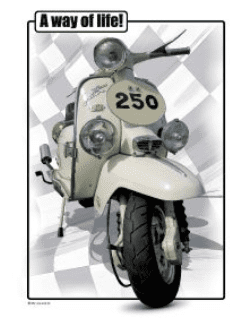 We are pleased to offer this amazing A3 poster of a Lambretta classic racer scooter from our extensive motorcycling collection!
Digitally reproduced on gloss coated A3 sheets, you don't want to miss out on getting your hands on this gift his Christmas!
We have a big collection of Lambretta and Vespa posters, check them out here!
---
4. Alpinestars Force Backpack 25 offers the lot!
For trips to the shops, touring, green-laning, and as an every-day bag for work. You can cram it to breaking point with clothes, computers and cameras, and it's swallowed the lot with ease. Sure, it's only 25 litres – but its compact size actually helps to offer a more comfortable and well balanced fit. Of course, if you've got a few kilos of gear on your back, you're going to feel it at the end of the day – but its padded back panel, and multi-strap tailored adjustment system which spans across your chest, does a decent job of helping to distribute weight evenly and improve comfort.
If you need to add something bulky to your load, the backpack also comes equipped with a set of adjustable straps hidden away in a pocket in the bottom of the bag – and there are also four compression straps on the sides of the bag, allowing you to attach quite a bit of extra kit, providing your back can take the weight, of course. Grab yours here!
---
5. Embrace the Art of Scooters!
Price: £5.00, Classicmagazines.co.uk
There are few, if any other cultures out there with as much passion for their transport as the scooter scene.
From gold plating to engine tuning; heavy modifications to Mod inspired accessories; there's enough here to keep the world's art critics busy for years.
We're proud to say that that some of the first, most innovative and the best, originated in Great Britain and are here in all their glorious colour!
---
6. Look trendy with Bull-it's new denim jacket!
This traditional style denim jacket wouldn't look out of place in your local on a Friday night – but it also comes equipped with an abrasion resistant Covec SR6 liner (which covers 60% of the jacket) and some well-placed armour at the shoulders and elbows to help protect you should the worst happen and you take a tumble. There's also a pocket to fit an optional back-protector. Clever right?
It also comes with a wick-away mesh-liner, which works with the Covec SR6 liner to help keep you cool in the summer and warm in the winter. There's air vents on the front and rear, internal belt loops, to allow you to connect the jacket to a pair of trousers – and, the denim is also finished with a water-repellent membrane, so it's capable of taking a light soaking in its stride too. Click to see more!
---
7. Christmas read – sorted, with Guy Martin's new book, 'We Need to Weaken the Mixture'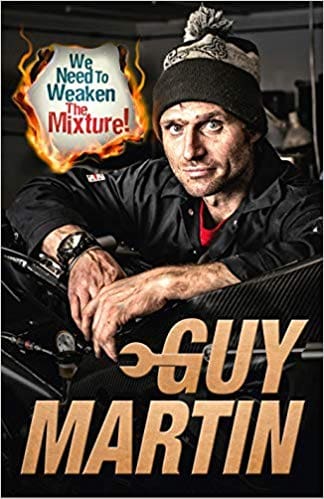 Except for one summer spent sleeping inside a truck in a concrete yard in Northern Ireland, Guy Martin has lived within 20 miles of the Grimsby hospital he was born in, on the 4th November 1981.
But that hasn't stopped the professional truck mechanic from winning multiple international road races, plus scoring fifteen Isle of Man TT podiums. Nor has it prevented him from becoming a regular face on prime-time Channel 4, presenting critically acclaimed documentaries and travelogues, as well as his popular returning series Speed with Guy Martin.
This Christmas you can get hold of his new book, 'We Need to Weaken the Mixture' and celebrate the festive season with the return of the million-copy selling truck fitter.
---
8. Look slick and keep your head safe with Shark's new Explore-R Helmet!
Despite its outwardly off-road oriented appearance, the Shark Explore-R helmet is actually three helmets in one brilliant, versatile package – thanks to its removable peak and visor, and a set of bundled goggles with Carl Zeiss lenses.
In short, the Shark Explore-R is truly customisable, allowing you to switch between full-face road helmet and off-road lid in a matter of seconds. And Shark has even tweaked the Explore-R's design, allowing the latest incarnation to be worn with both the peak and the visor, at the same time. A perfect gift for Christmas, right?
---
9.  TomTom RIDER 450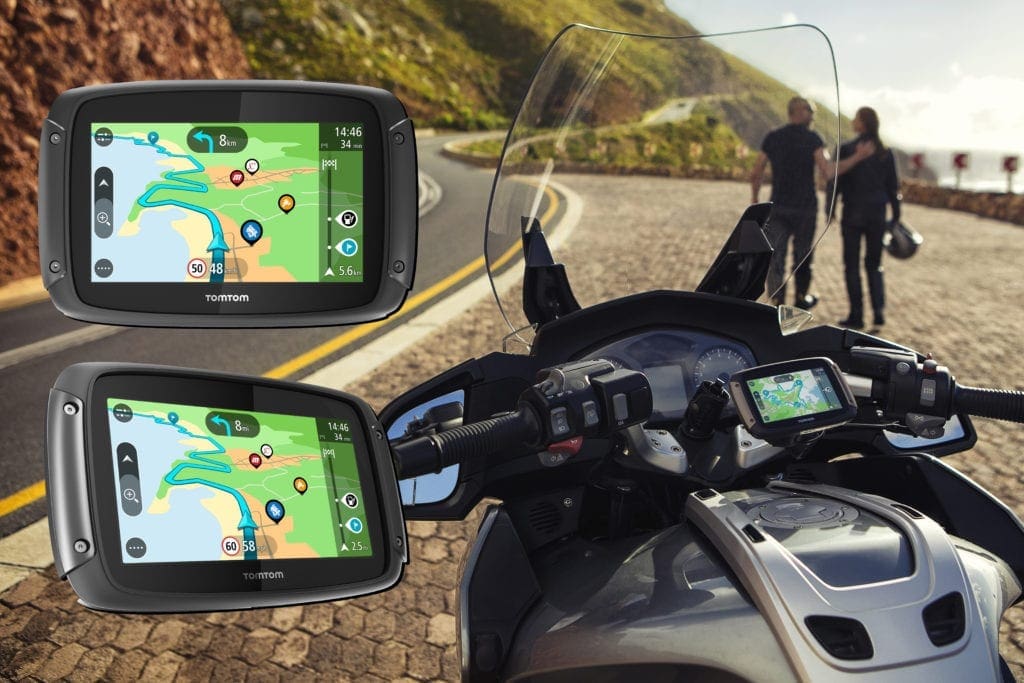 Expensive but worth every penny! TomTom have just updated their range of RIDER motorcycle sat navs – overhauling and upgrading the software across their range of devices, while delivering their new flagship model, the TomTom Rider 450.
The sat nav allows bikers to discover the most interesting and exhilarating routes to liven up their journeys – offering the chance to choose between 'Windy Roads', 'Hilly Roads' and 'Roundtrip Planning'. It's a clever feature which works surprisingly well in practice.
These include biker meeting points, restaurants and hotels, even biker museums – everything a RIDER needs for the perfect tour. And it also comes equipped with lifetime world maps, live traffic and speed camera alerts – to help keep you moving when out on two wheels. This is now an essential piece of kit in biker arsenal!
---
10. Oxford Motorbike Motorcycle OL265 Visorstash Deluxe Padded Visor Carrier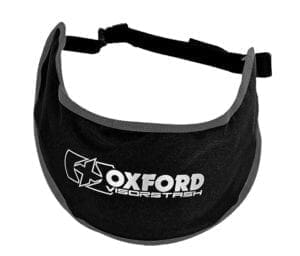 If you're the type of rider that likes to switch up between light and dark visors depending on the light conditions, then this clever Visorstash from Oxford Products could be perfect for you.
It's exactly what it sounds like – a large-sized protective case in which you can keep a spare visor. Pretty nifty, right?