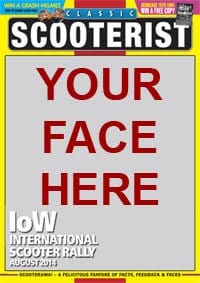 Ever fancied seeing yourself on the cover of Classic Scooterist? Of course you have! Our Mau was busy snapping away at this year's Isle of Wight Scooter Rally and has such an abundance of cracking pics… but unfortunately we can't put them all on the cover or in the mag.
We're now giving you the chance to buy a collectable, one-off cover of Classic Scooterist featuring YOU!

Creating this is easy…
Have a look at our flickr gallery and make a note of the image name. Check out the gallery>> (new window)
Then either fill out the form on the link below, or give our Jane a call on 01507 529423.
To order you must know the photo reference as listed on the website.
Can't find your face in our gallery? Upload your own pic following online instructions.
Your very own cover will then wing its way to you in glossy A4 format to take pride of place on your wall. Simple!
Prints are just £10+£1.30 Postage.
Order here now>> (Secure on-line payments via Classic Magazines, new window)
Allow up to 14 days for delivery.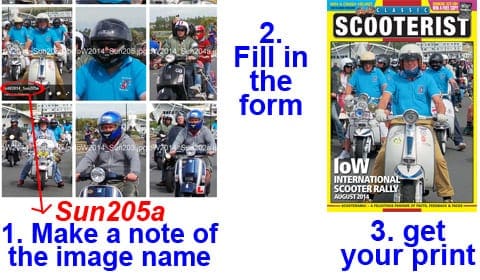 *Hover over the image to see the image name.