Classic Scooterist turns back the clock through the golden ages of the scooter lifestyle. There's news and reviews plus reports from rallies both past and present. Painstakingly prepared readers' rides get in-depth coverage complete with photographs and historical details where available. Restoration tips and easy-to-follow technical advice gives readers the help they need to perfect their own projects.
CSM covers the scene inspired by classic scoots too, including the nostalgic lifestyle and the passion that turned the heads of generation after generation. It's a nostalgic look back, illustrated with an eclectic mixture of rare period pictures and modern images.
So don't miss out – get involved and take out your magazine subscription now!
Dec 2018/Jan 2019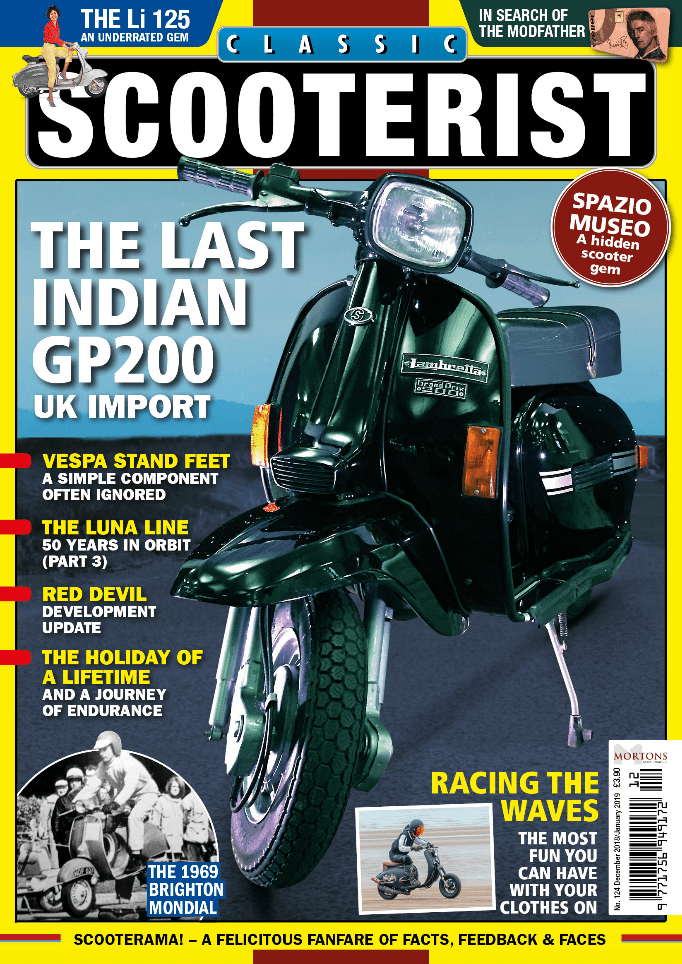 The latest issue of Classic Scooterist is out now! Get yours at any discerning newsagent or subscribe to get your copy delivered every two months.
Back when we had hair
Nostalgicic memories from times gone by
Scooterama
A felicitous fanfare of facts, feedback and faces
Mailbox
Readers have their say
What's going on?
A look at the scooterist calendar
LCGB memories
John Ronald shares nostalgic moments from the past
In search of the Modfather
Martin Allen's Paul Weller PX200 tributes
Red Devil
Continuing the unique development cycle of the Model D Lambretta
First Indians
Effingham Park's contribution to the UK introduction of the Indian Lambretta GP range
…Last Indian
A tale of the last ever Indian GP official UK import
Spazio Museo
Rome's hidden scooter gem
Back in the day
Thames Valley Vespa Club show their riding skills
Splash down!
Part 3 of our 50th anniversary Luna Line celebrations
Livin' La Vida Loca
Chris Richardson's Mk1 Jet 200
Retirement plan
Self-restoration brings fond memories back for Steve Titterton
The Li125 Series 1
An underrated gem
Vespa stand feet
A simple component often ignored
A holiday to remember
The trials and tribulations of the journey to the German Durkopp factory
Love at first sight
Derek Ward's Lambretta Li150 Special
Rally roundup
A quick glance at recent events
Racing the Waves
The most fun you can have with your clothes on!
Scooter clubs
Meet your local club
Blast from the past
The 1969 Brighton Mondial.