Classic Scooterist turns back the clock through the golden ages of the scooter lifestyle. There's news and reviews plus reports from rallies both past and present. Painstakingly prepared readers' rides get in-depth coverage complete with photographs and historical details where available. Restoration tips and easy-to-follow technical advice gives readers the help they need to perfect their own projects.
CSM covers the scene inspired by classic scoots too, including the nostalgic lifestyle and the passion that turned the heads of generation after generation. It's a nostalgic look back, illustrated with an eclectic mixture of rare period pictures and modern images.
So don't miss out – get involved and take out your magazine subscription now!
What's inside the June edition of Scootering?
Meet Daisy, a 1951 Douglas with a hell of a story in our June edition of Scootering magazine.
Simply put, Scootering is the number one scooter magazine in the world featuring stunning restorations and customisations, news, reviews, technical advice and an unrivalled insight into the scooter scene.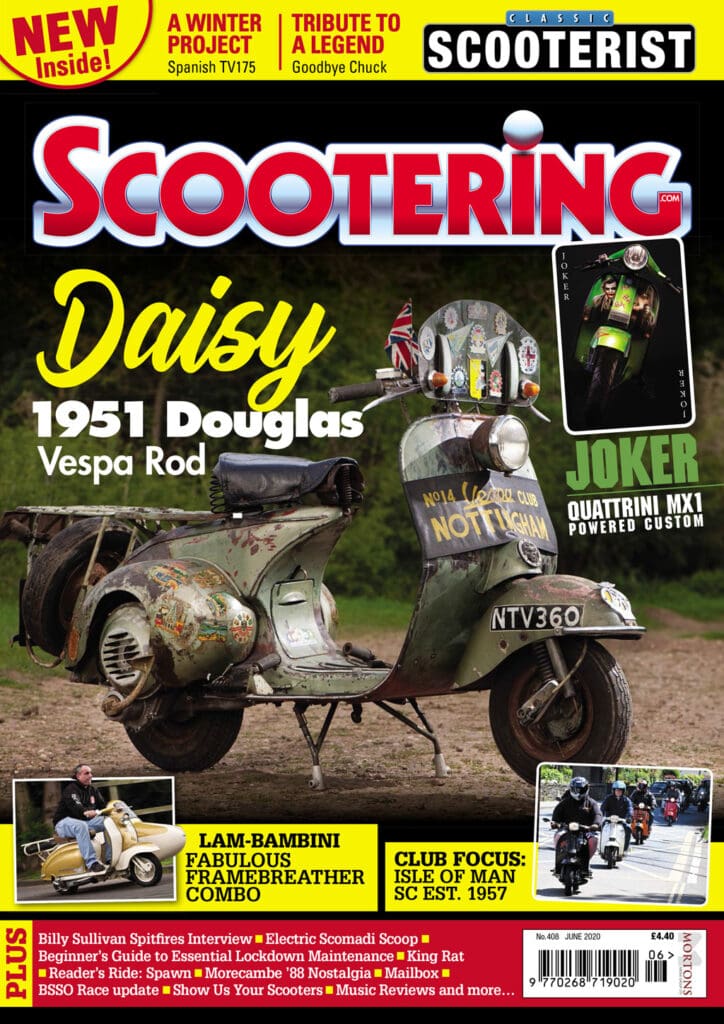 If you'd like to read the June issue of Scootering magazine, then you can cut to the chase and download the digital version, order the print magazine, or better yet save those pennies and subscribe to Scootering magazine. Here's what to expect this month…
The Joker
Batman may have been the saviour of Gotham City, but it was his arch enemies the supervillains that stole the limelight. This stunning custom scooter depicts one of those characters in all his glory…
'1988 – my pivotal year'
Rik's pivotal year in scootering was 1988, the year Morecambe achieved the treble. He warms our hearts with a trip down memory lane.
Feature Scooter: Daisy
One of the first hundred to be produced under licence by British motorcycle manufacturers Douglas, it wasn't the first choice of machine for its original owner.
PLUS! Scooter Trader; Dealer Profiles; Kickstart and you show us your scoots!
Scootering magazine is on sale in UK newsagents and supermarkets, and you can buy the current issue in digital and paper formats here!
You can also buy stacks of back issues, but it's cheaper to subscribe. Subscribers save money, get their copies delivered to their doorstep and never miss an issue.