Classic Scooterist turns back the clock through the golden ages of the scooter lifestyle. There's news and reviews plus reports from rallies both past and present. Painstakingly prepared readers' rides get in-depth coverage complete with photographs and historical details where available. Restoration tips and easy-to-follow technical advice gives readers the help they need to perfect their own projects.
CSM covers the scene inspired by classic scoots too, including the nostalgic lifestyle and the passion that turned the heads of generation after generation. It's a nostalgic look back, illustrated with an eclectic mixture of rare period pictures and modern images.
So don't miss out – get involved and take out your magazine subscription now!
October/November 2016 – Issue 111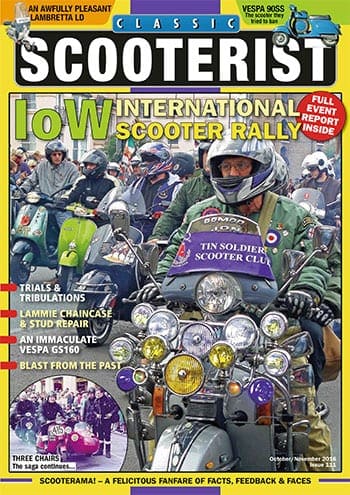 CONTENTS
Back when we had hair
Nostalgic memories from times gone by
Scooterama
A felicitous fanfare of facts, feedback and faces
"You've got mail"
Readers express their views, ask questions and show us their pictures
What's going on?
A look at the scooterist calendar for the remainder of the year
Isle of Wight international scooter rally
Our exclusive first magazine coverage of the 2016 event – were you there?
Isle of Wight picture offer
Did Mau take a picture of you at the IoW? If so take advantage of our special souvenir cover offer
There once was an ugly duckling
Jon Betts' Lambretta LD
A special birthday present
Pete Hanman's immaculate Vespa GS
Sheer Luna-cy
John Walklate's Luna line collection
Back in the day
The 1963 Blackpool Show
Trials and tribulations
It was 'S for Spain' for Bob and Dinah Millson
Scooter they tried to ban
The Vespa 90SS
An awfully pleasant scooter
James Mobberly's period accessorised Lambretta LD
Rallies and rideouts
Events round-up from around the UK
Automania!
Addressing a stereotypical perception
Three chairs
The saga continues….
SAE 30 gear oil
Lubricating Vespa crankcases for half a century – but what can be used as a replacement?
Lambretta refurb
Our tech tips on sidecase gasket replacement and broken stud repairs
South Birmingham SC
A potted history of a well established scooter club
Scooter clubs
Meet and greet your local club
Scooterist classifieds
For all your wants and needs
Blast from the past
The Atlanta III record attempts