Scooterists Charity Night
On Saturday November 3, 2018, All Or Nothing SC are hosting their annual Scooterists Charity Night at the Standard Triumph Club, in Herald Ave, Coventry CV5 6UB.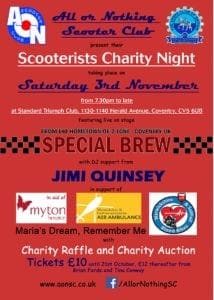 This year they are supporting Myton Hospice, Maria's Dream, Warwickshire and Northamptonshire Air Ambulance and Warwickshire and Solihull Blood Bikes
Tickets are now on sale £10 each, but if you want them at this price, you must have booked and paid for them by Sunday October 21, 2018 – after that date, they will cost £12.
You can either go online at http://www.aonsc.co.uk/tickets/ and tell them how many you want (someone will get back to you to arrange the payment); or you can get them from the AON SC Social Secretary (Tina), or Wilf and Sally at Mototech (www.mototechcoventry.co.uk / 135 Barker's Butts Ln, Coventry CV6 1EB).
Comments
comments