Shark Evoline 3 Hakka
RRP: £220 upwards (dependent on helmet style)
Reviewer: Mau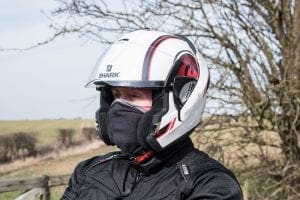 With my old Shark Evoline 3 helmet nearing the end of its' workable life, the time eventually came around to replace it. The helmet had served me well over previous years, so what should I replace it with – another Evoline 3 or course; in this case the white/black/red Hakka version, which is part of Shark's Discovery range.
Obviously there have been some improvements over the years, but the basics always were on a solid footing. Weighing-in at 1750g it is still a relative lightweight for its' thermoplastic resin design. And one thing that has always sold it (for me at least) is its' versatility of use. The semi-automatic 'Auto-up' system which simultaneously unlocks both the visor and chin guard means that it can quickly be converted from a full face to an open face – ideal for someone like me who often has to stop to either take pictures, or to talk to someone. It also offers the choice of riding styles and is still reasonably aerodynamic, even when being used in the open-face position. Either way, it is double homologated in both closed and open positions. I normally wear contact lenses, but glasses wearers will be pleased to know that the helmets sports Shark's 'easy fit' spec system.  A range of accessories (or replacement items) are also available.
The helmets comes with an outer 'total vision' visor and a UV tinted inner – both of which are anti-scratch; there is also a quick release visor system. It also has a quick release micro lock buckle system, making it easy to put on, or take off. And if the internal lining needs a freshen-up, then it can  easily be removed and placed in a washing machine on a delicate or cold cycle (it's recommended that it is also placed inside a washing net when doing this). The helmet is available in various sizes: XS (53/54 cm), S (55/56 cm), M (57/58 cm), L (59/60 cm), and XL (61/62 cm).
Info: www.shark-helmets.com