The 2018 Bridlington Custom Show takes place at The Spa, Bridlington, on Saturday October 27, 2018.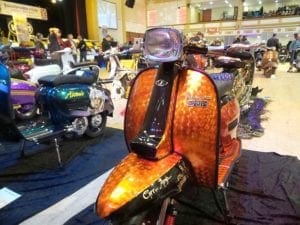 As in previous years, the decision has again been taken not to accept 'on the day' entries, and thus all completed forms must be returned no later than Saturday October 13, 2018. While it's accepted there is always going to be scooters that are only rebuilt days before the show, or scooter owners that make a last minute decision to enter, 'on the day' entries cause immense difficulties at such a large event as Bridlington Custom Show – not only for the show stewards attempting to find a space for them, but also for the judging which has to be organised in advance of such an event.
LIMITED ENTRY: Entries will be limited to the first 100 scooters that apply to enter the show to allow sufficient space to enable the scooters to be displayed adequately.
CLUB DISPLAYS: Entries will restricted to a maximum of five scooters per display to avoid the trend to 'bump' up the number of scooters in a 'Club display' by including scooters not falling with the usual criteria of a custom scooter.
A positive aspect of the annual LCGB Bridlington Custom Show is a free programme including details of all the scooters entered, so please provide some interesting information about your pride and joy when completing the entry form.
Further information will be posted on the LCGB's Website www.ilambretta.com and the LCGB Facebook page.
Comments
comments