Following a sell-out five-week run at the Arts Theatre, London, the AON Musical has now transferred to the Ambassadors Theatre in London's West End for a 10-week run. It will run until Saturday June 2, 2018. Tickets are now on sale.
The musical tells the story of four charismatic young kids from East London who were to become the group, 'Small Faces' who went on to discover that the path to success is paved with exploitation, betrayal and, ultimately, tragedy.
The cast at the Ambassadors Theatre will be led by former East Enders star, Carol Harrison, who plays Kay Marriott and Chris Simmons (The Bill) playing Steve Marriott. The show is endorsed and supported by many of those who feature in its storyline, including singer PP Arnold and Steve Marriott's daughter, Mollie Marriott (the show's vocal coach and creative consultant).
A 29-track cast recording, as well as a limited edition 15-track blue vinyl LP, is available now from the show website and is also available from the Arts Theatre during the show's run, and then from the Ambassadors Theatre during the show's run there.
SHOW INFORMATION


March 28 – 2 June 2, 2018
Ambassadors Theatre
West Street
London WC2H 9ND

Performances:  Monday-Sat 7.30pm, Thurs/Sat matinee 3pm

Running Time:  2hrs 35mins, including interval

Tickets:  From £27.50

Box Office: 020 7395 5405
The AON GS160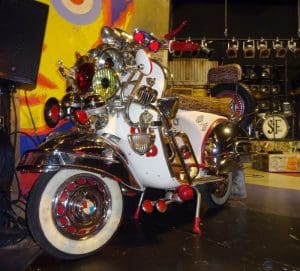 Classic Scooterist has been given exclusive access to one of the stars of this brilliant show – a 'classic of the classics' of the scootering world, in the form of a Vespa GS160.
The stage set features a visually stunning early model GS160 – machine that actually belongs to the All or Nothing Company, not a loan item. This GS features a pre-suffix number plate, has a round tail and the signature rear 'butty box' toolbox lid of the original Series 1 production GS (the legshield tool box is obviously an accessory, or a later bolt-on addition – often allowing that conversion to the Series One to be given the very unofficial 'Series One-and-a-half' moniker); these factors would date the GS as a 1962 or early 63 model. Being an early vintage allows the addition of the myriad of chrome accessories and lights, as this style concept reached its high point in 1964 – spot-on the money for the AON GS and the 'Small Faces' topic.
The accessories are amongst some of the more mouth-watering aspects of this scooter and include the entire available catalogue of bolt-on chrome bits, plus the lights and mirrors theme. The standard factory white paint has been immaculately contrasted with chrome-plated sidepanels and front mudguard, with the headset having the same finish as an extra, but as a far more unusual, key note to the design.
Try to see the amazing stage show live before the run ends.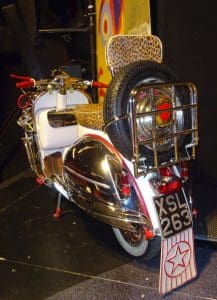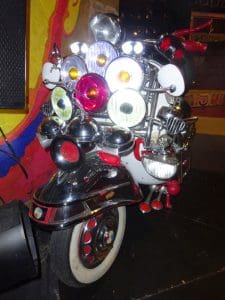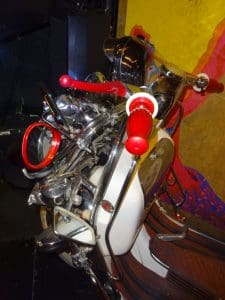 Comments
comments